Lovie Smith hopes that running back Matt Forte will be able to return from his ankle injury to play in Dallas next Monday night, but the Bears coach isn't making any guarantees.
"Matt Forte is continuing to get better," Smith said Monday at Halas Hall. "We have an extra day this week, so we're hopeful. Eventually we'll get him back out there."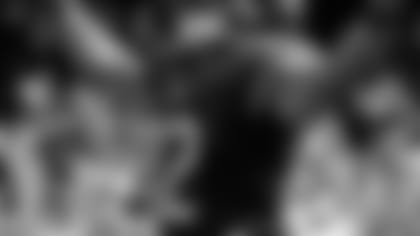 Matt Forte celebrates his 6-yard touchdown run in the Bears' season-opening win over the Colts.
Forte sat out Sunday's 23-6 win over the St. Louis Rams at Soldier Field with a sprained ankle he sustained 10 days earlier in a 23-10 loss to the Packers in Green Bay.
Asked if the Pro Bowl running back will be able to practice this week, Smith said: "Hopefully he will be. Eventually we'll get him back out there, but as far as when I don't know that right now. I just know every day I see him doing a little bit more, and we have an extra day so we're hopeful."
Super sub: Forte was replaced in the starting lineup by Michael Bush, who rushed for 55 yards on 18 carries. In the second quarter, the veteran running back scored the offense's only touchdown of the game on a 3-yard run and turned a screen pass into an 18-yard gain on third-and-17.
"You can't say enough about a guy like Michael Bush," said quarterback Jay Cutler. "He really didn't miss a beat. He's protection savvy. He runs the ball hard and hits the holes. He does everything for us."
Bush split time with Kahlil Bell, who rushed for 20 yards on 10 carries and caught one pass for 11 yards. Released during the preseason, Bell re-signed with the Bears after Forte was injured.
"It was good to see Kahlil Bell get some reps," Smith said. "Kahlil can do some of the same things we ask Michael to. I still think there's a place for Armando Allen, too, which gives you a totally different body-type plan."
Under pressure: The Bears' 14 sacks are the most in their first three games of a season since 1987, and 13 of the 14 have been generated by the defensive line.
The intense pass rush has made life easier for the secondary, which has produced six interceptions, including a league-leading four picks by cornerback Tim Jennings.
"It's been a huge impact," Jennings said. "Quarterbacks are back there getting the ball out. They've got to get it out on time or get it out hurried because our d-line is getting after them.
"Any time we can create a whole bunch of sacks and get the quarterback a little jittery back there, us on the back end are able to react quick. There aren't going to be a whole lot of pump fakes and there isn't going to be a whole lot of looking around. As soon as we see the quarterback getting ready to throw it, we're getting ready to break."
Tough customer: After Chilo Rachal made his first start of the season at left guard Sunday in place of Chris Spencer, Cutler and Smith both praised the fifth-year pro for his toughness.
"Chilo brings that edge to the offensive line, and he doesn't take a lot of grief in there," Cutler said. "He's a big guy. He's kind of a mauler and I feel comfortable with him in there."
"Tough guys give you an edge a little bit," Smith added. "He's a tough guy in everything that he does. He's an aggressive guy that plays hard from start to finish. We have a lot of guys like that, but I think some guys can play hard from start to finish a little bit differently, and that's what we're expecting from Chilo."