The Bears placed Johnny Knox on the physically unable to perform list and not on season-ending injured reserve Sunday because they're hopeful he'll be able to play in 2012.
The fourth-year receiver continues to recover from a serious back injury that he sustained last Dec. 18 in a loss to the Seahawks. Knox underwent surgery and wore a back brace for several months.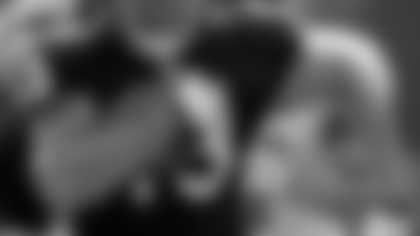 Johnny Knox has excelled as a return specialist and wide receiver in three seasons with the Bears.
"We have hope for Johnny," said coach Lovie Smith. "I've seen him improve so much and I'm not talking about just since the injury but just in the offseason.
"All you can do if you're Johnny Knox is just come in every day and work, and he started almost immediately and it's been like that every day. I know it's tough for him at the level he's played at not to be there right now, but he's getting a little bit better each day."
Being placed on the PUP list means that Knox will miss the first six weeks of the regular season. That means he will be eligible to be activated following the Bears' bye week for their sixth game Oct. 22 against the Detroit Lions on Monday Night Football at Soldier Field.
"It gives me a little window of time to get healthy all the way," Knox said Sunday at Halas Hall. "I'm still taking it day-by-day. I've been improving and I'm just trying to keep working hard and get back on the field."
After further review: Smith felt much better about how the Bears performed Friday night against the Giants after watching tape of the game than he did immediately following the 20-17 preseason win at MetLife Stadium.
"After you play a football game you have opinions about how guys played right after the game, and then you watch the video and sometimes it's a little bit different," Smith said.  
"We saw some good things in the game. I'm not pleased with how we played the first half with our frontline guys, but very pleased with how some of our guys who are fighting for a position played in the second half.
"Most of the guys were a little bit better than I thought during the course of the game. I had a bad taste in my mouth right after the game. But after I saw [the tape] we didn't give up any sacks [until late in the game] and didn't turn the football over. Those are positive things."
In rallying from a 17-7 halftime deficit, the Bears held the Giants scoreless in the second half, forcing six straight punts before rookie cornerback Isaiah Frey preserved the win with an interception. New York was 0-of-6 on third down in the final two quarters.
"On the defensive side of the football, we played third downs a lot better in the second half, and a lot of players are involved in that," Smith said.
Not-so-average Joe: One unheralded prospect the Bears coach singled out Sunday was undrafted rookie receiver Joe Anderson. The Texas Southern product caught two passes for 14 yards, including a go-ahead 12-yard touchdown from Jason Campbell midway through the fourth quarter.
Anderson scored the TD by catching a short pass and spinning away from a defender.
"It's about opportunities and you have to step up when you get that chance," Smith said. "We've seen a lot of players step up. A guy like Joe Anderson; most of you don't know an awful lot about where he's from or where he played college ball. But he got an opportunity and made a couple big plays."[ ](http://www.phoenix.edu/campus-locations/il.html?utmsource=Story&utmmedium=instory&utmcampaign=300x100)
Quashing dreams: The Bears will have to cut more than 20 players to reach the NFL's mandatory 53-man roster deadline by 8 p.m. (CT) Friday. It's certainly not a part of Smith's job he enjoys.
"It's tough," said the veteran head coach. "If you're an athlete [you dream about] making that game-winning play at the end or just being on an NFL team. That's the dream of everybody that comes here.
"Some of them you have to cut that dream short a little bit. It's hard telling them that, but that's just a part of it. Eventually they're going to tell all of us they want to go a different direction. We all realize that."