The Bears hosted a flag football tournament for Special Olympics Illinois athletes Saturday in the Walter Payton Center at Halas Hall.
About 140 athletes and 50 coaches represented 15 teams, playing in games throughout the morning and early afternoon. The festivities featured an opening ceremony during which the athletes recited the Special Olympics oath: "Let me win. But if I cannot win, let me be brave in the attempt."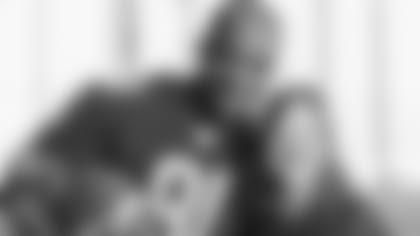 Former Bears receiver Rashied Davis poses with Special Olympian Izzie Jakubowski at Halas Hall.


Current Bears players Sherrick McManis and Charles Leno, Jr. attended the event, as did former Bears Tom Thayer, Rashied Davis and Garrett Wolfe.
The partnership between the NFL and Special Olympics leverages the football community to promote awareness, respect and inclusion of Special Olympics athletes among NFL players, clubs, supporters and partners. These efforts will create new participants, coaches and fans to grow the sport of flag football within Special Olympics North America programs.
Special Olympics Illinois is a not-for-profit organization offering year-round training and competition in 19 sports for more than 22,000 athletes with intellectual disabilities and more than 20,000 young athletes ages 2-7 with and without intellectual disabilities.
Special Olympics transforms the lives of people with intellectual disabilities, allowing them to realize their full potential in sports and in life. Special Olympics programs enhance physical fitness, motor skills, self-confidence, social skills and encourage family and community support.
If you're interested in learning more about Special Olympics Illinois, volunteering or providing financial support to help make Special Olympics programs possible, contact your local Special Olympics agency, call 800-394-0562 or visit www.soill.org.