Well, that didn't take long.
Just four days after their season ended, the Bears on Thursday signed quarterback Jay Cutler, guard Matt Slauson and cornerback Tim Jennings to long-term contracts. Cutler inked a seven-year deal through the 2020 campaign, while Slauson and Jennings signed four-year pacts through 2017.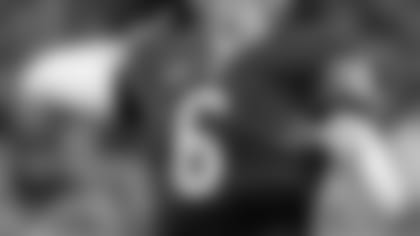 Quarterback Jay Cutler posted the highest passer rating of his career this season.
All three players were slated to become free agents.
Cutler recorded a career-high 89.2 passer rating in 2013, completing 63.1 percent of his passes for 2,621 yards with 19 touchdowns and 12 interceptions in 11 games. The eight-year veteran missed one contest with a torn groin muscle and four more games with a high ankle sprain.
"We're very excited to have Jay for the long term," said general manager Phil Emery. "He had his best season as a pro from a statistical outlook. I also think he had his best season as a pro in terms of his leadership, his improvement, his display of toughness, his ability to bounce back, his ability to handle pressure and his ability to come back and win games."
In just five seasons with the Bears, Cutler has become the franchise's all-time leader in most passing categories with 1,258 completions, 2,090 attempts, 14,913 yards and an 83.1 rating. His record as a starter since arriving in 2009 via a blockbuster trade with the Broncos is 39-28.
"The things that I felt certain about Jay as far as signing him into the future, No. 1 he's a demonstrated winner with the Chicago Bears," Emery said. "Two, this fall he showed us right from the beginning that he can be a key player in terms of a player being the reason you win."
Working with first-year head coach Marc Trestman and offensive coordinator Aaron Kromer, Cutler helped lead an offensive resurgence in 2013. The Bears ranked second in the NFL with 445 points, the second most in franchise history, while setting team records with 6,109 total yards, 4,450 passing yards, 344 first downs, 32 passing touchdowns and a 96.9 passer rating.
For only the second time in Bears history, the offense featured two 1,000-yard receivers in Alshon Jeffery and Brandon Marshall and a 1,000-yard rusher in Matt Forte.
Slauson, who originally signed with the Bears last March 29, was part of a revamped offensive line that helped protect Cutler and Josh McCown and opened holes for Forte and Michael Bush. Slauson joined the Bears after spending his first four NFL seasons with the Jets from 2009-12.
"I told him when he came in that it was our intent to reward him if he did well and we want him to be a Bear for the longer future," Emery said. "Matt certainly deserves that future with the Bears.
"A key part of our offensive line improvement Matt is exactly what we were looking for in a guard this season; big, long-armed, physical, tough, smart, anchor point for our quarterback to be able to step up when he has pressure.
"I can't say enough about him in terms of leadership and fit with this group and toughness and physicalness he brings to that group. When you're a defender and you line up against Slauson, at the end of the day you know you played a football game. He defines football because you'll know you've taken hits. Matt's going to give you everything he's had each and every play."
With a career-high nine interceptions in 2012, Jennings became the first Bears player to lead the NFL in picks since Mark Carrier had 10 in 1990. Jennings' nine interceptions tied with Roosevelt Taylor for the second most in franchise history. He also broke up a team-high 16 passes, including two that were intercepted by teammates.
Jennings continued to excel in 2013, leading the Bears with four interceptions, two of which he returned for touchdowns, as well as 13 pass breakups.
"I've always been very impressed with his athletic suddenness, his competitive fire and the energy that he brings along with a key thing—he's a playmaker," Emery said.
"We're looking forward to having him with us for the long term. Signing Tim to me is about rewarding excellence, and he has that. I can't tell you enough about the energy he brings, the positive upbeat style."