The Bears continued their search for a head coach Tuesday by interviewing former Buffalo Bills head coach Doug Marrone and Detroit Lions defensive coordinator Teryl Austin.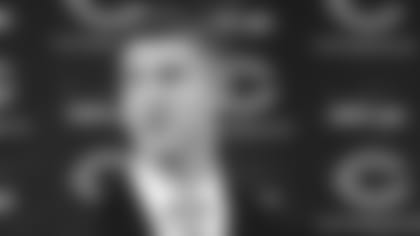 New Bears general manager Ryan Pace is leading the search for a head coach.
Marrone, 50, compiled a 15-17 record the past two years with the Bills before exercising an out clause in his contract and leaving the team Dec. 31. He led Buffalo to a 9-7 mark in 2014, the team's first winning season since 2004.
Before joining the Bills, Marrone was head coach at Syracuse, where he went 25-25 in four seasons from 2009-12. Prior to that he served as offensive line coach with the New York Jets (2002-05) and offensive coordinator with the New Orleans Saints (2006-08).
Austin, 49, excelled in his first season with the Lions in 2014. He coordinated a defense that ranked second in the NFL in total yards and first against the run, helping Detroit earn a wildcard berth in the NFC playoffs with an 11-5 record.
Prior to joining the Lions, Austin coached defensive backs with the Seahawks (2003-06), Cardinals (2007-09) and Ravens (2011-13) and served as defensive coordinator at Florida in 2010. He's coached in three Super Bowls, winning a ring with the Ravens in 2012.
The Bears have now interviewed five candidates for the head-coaching position. New general manager Ryan Pace has spoken to three of them; before interviewing Marrone and Austin Tuesday, Pace met with Arizona Cardinals defensive coordinator Todd Bowles last Thursday.
Bowles, 51, has spent the past two seasons with the Cardinals. In 2014, he coordinated a defense that ranked fifth in points allowed and helped Arizona earn a wildcard berth with an 11-5 record.
Bowles has spent the last 15 seasons as an NFL assistant, coaching defensive backs with the Jets (2000), Browns (2001-04), Cowboys (2005-07), Dolphins (2008-11) and Eagles (2012) before becoming Philadelphia's defensive coordinator midway through the 2012 season.
Bowles served as Miami's interim head coach for the final three games in 2011, guiding the Dolphins to a 2-1 record after Tony Sparano was fired.
In looking for a new head coach, Pace said last Friday that he's seeking an individual who possesses confidence, charisma, discipline and leadership—many of the same attributes embodied by the Saints' Sean Payton, the coach that Pace worked with in New Orleans the past nine seasons.
Before Pace was hired, chairman George H. McCaskey, president/CEO Ted Phillips and consultant Ernie Accorsi interviewed Seahawks defensive coordinator Dan Quinn and Broncos offensive coordinator Adam Gase for the head-coaching position.
Quinn, 44, is in his second season as Seahawks defensive coordinator. In his first year in 2013, Seattle won the Super Bowl and became the first NFL team since the 1985 Bears to lead the NFL in points allowed, yards allowed and takeaways.
Quinn previously worked as a defensive line coach with the 49ers (2003-04), Dolphins (2005-06), Jets (2007-08) and Seahawks (2009-10). He then served as defensive coordinator at the University of Florida in 2011-12 before returning to the Seahawks.
Gase, 36, just completed his sixth season with the Broncos and second as offensive coordinator. In his two seasons working with quarterback Peyton Manning, the Broncos set an NFL record with 606 points in 2013 and scored 486 points in 2014, the third most in franchise history.
Gase previously was as an offensive assistant with the Lions (2005-07) and 49ers (2008) before joining the Broncos, where he served as receivers coach (2009-10) and quarterbacks coach (2011-12) before being named offensive coordinator in 2013.