The Bears are continuing to negotiate a long-term contract with receiver Alshon Jeffery.
"We continue to talk with his agency and it's still been cordial and it's been productive, but not a lot of new information there," general manager Ryan Pace said Wednesday during his pre-draft press conference.
Jeffery has signed the franchise tender he received from the Bears, guaranteeing him a contract for the 2016 season that's equal to the average of the NFL's five highest paid receivers. The two sides have until July 15 to reach a long-term agreement.
While the Bears kicked off their voluntary offseason program April 18, Jeffery has been working out in Florida.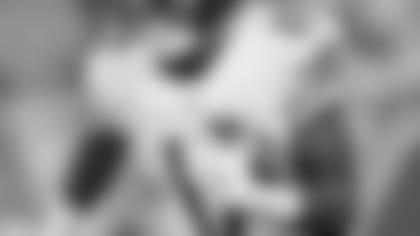 Alshon Jeffery ranks 10th on the Bears' all-time receiving list in catches.


"We've been in communication with him, but he's in Florida now, training down there," Pace said. "In a perfect world, would we like him to be here with his teammates and building those relationships? Sure. But I also understand it's voluntary and that's the action he's chosen to take."
After appearing in all 16 games in both 2013 and 2014, Jeffery was limited to nine contests last year due to injuries to his calf, hamstring, groin and shoulder. As a result, the Bears are placing a major emphasis on the receiver's strength and conditioning plan this offseason.
"We're working kind of together on that," Pace said. "He's communicating with a plan that he's doing and stressing how hard he's been working and some of the biomechanical things that he's doing. Talking to him and his agents, I think they understand the importance—as we do—of him having a healthy season. I know that's in the front of his mind."
Pace expects Jeffery to participate in the Bears' full-squad minicamp June 14-16 at Halas Hall, the only mandatory portion of the offseason program.
"He signed his franchise tender, so we expect him to be here for the mandatory items," Pace said. "It's kind of day-to-day talk as we discuss things with him and his agent. Right now, it's voluntary and it's kind of his personal choice."
Asked if he thinks that Jeffery's absence is a negotiating ploy, Pace said: "A lot of these franchise players haven't reported to their teams. I don't know how I view it. I wish he was here, but it's voluntary, so it is what it is."
Jeffery was selected by the Bears in the second round of the 2012 draft. He was voted to the Pro Bowl in 2013 after catching 89 passes for 1,421 yards and seven touchdowns and followed with 85 receptions for 1,133 yards and 10 TDs in 2014.
When healthy enough to play last season, the South Carolina product showed his game-breaking ability, posting four 100-yard games, and tying a team record with three straight 100-yard outings.
Jeffery ranks 10th on the Bears' all-time receiving list in catches (252), eighth in yards (3,728) and 11th in touchdowns (24). His 3,728 yards are the most in franchise history by any player in his first four seasons with the Bears.
Jeffery is one of five pass catchers in team history with two 1,000-yard seasons, and his 1,421 yards in 2013 are second-most in Bears single-season history. He also has recorded the two most prolific games by a Bears receiver with 249 yards against the Vikings and 218 yards versus the Saints, both in 2013.