The Bears are encouraging their fans to donate winter coats at Jewel-Osco locations throughout the Chicago area through Jan. 3 as part of their 27th annual coat drive.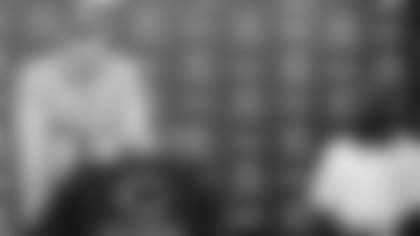 With equipment manager Tony Medlin looking on, quarterback Jay Cutler discusses the 27th annual Bears Coat Drive.
The coats will benefit The Salvation Army. If someone is in need of a coat, they can contact the Salvation Army at (773) 725-1100 or visit a Salvation Army thrift location.
The effort is traditionally spearheaded by longtime Bears equipment manager Tony Medlin and also supported by Meyers Movers.
"It's that time of year; what we call giving season," Medlin said. "When you walk around the city, you get a chance to see a lot of people that are in need."
Bears quarterback Jay Cutler and right tackle Kyle Long supported the cause by speaking at the press conference.
"I think we all know what kind of weather Chicago brings from time to time," Cutler said. "I know with kids of my own how important it is to dress them and make sure they have coats. I think we all have closets at home with things that we say we're going to wear and coats that we say we're going to wear.
"You're going to be helping out a lot of kids and people throughout the Chicago area. It means a lot to us Bears. It means a lot to Tony."
"This is a tremendous thing," Long added. "We can all be winners when we help out. It's a great thing you can get involved with, a small act that goes a really long way."