After a three-month hiatus, Bears players returned to Halas Hall en masse Tuesday for the start of the team's voluntary offseason program.
"Everybody's excited to be back," said receiver Earl Bennett. "Just to get to work and to get back with the guys has been a lot of fun."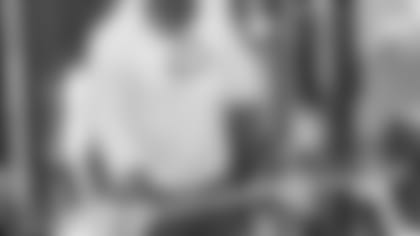 Julius Peppers spots for teammate Shea McClellin Tuesday at Halas Hall.
The first day of the offseason program consisted of meetings with first-year coach Marc Trestman and his staff, weight-lifting and running.

"It's exciting to get back," said safety Craig Steltz. "There's a ton of work to be done and it's great to get everybody back to get that foundation started."

Because they have a new head coach, the Bears were permitted to begin their offseason program the first week of April, giving them a two-week head start over teams without a new coach.

During the first two weeks of the program, activities are limited to strength and conditioning and physical rehab, with only strength and conditioning coaches allowed on the field with players.

In the second phase of the program, which begins the third week of April and includes a voluntary minicamp, all coaches will be allowed on the field to work with players.

"I think it's going to be fun," Bennett said. "I look forward to working with the new coaches and I know they're excited to work with us."

In addition to a new head coach, players will be working with new coordinators on offense (Aaron Kromer), defense (Mel Tucker) and special teams (Joe DeCamillis).

"I'm very excited," said defensive end Corey Wootton. "Luckily we're keeping the same style of defense, so there won't be too much of a learning curve. We've just got to get used to the coaches and their style of coaching. But the scheme is the same, so that's always good."

Introductions were necessary Tuesday given the number of new players in the locker room. Since the start of free agency March 12, the Bears have signed eight players from other teams.

The newcomers are left tackle Jermon Bushrod (Saints), tight ends Martellus Bennett (Giants) and Steve Maneri (Chiefs), linebackers D.J. Williams (Broncos) and James Anderson (Panthers), defensive end Turk McBride (Saints), safety Tom Zbikowski (Colts) and guard Matt Slauson (Jets).

"I'm excited about the additions," Bennett said. "The Black Unicorn (Martellus Bennett) is a guy who can really stretch the field at his position, and we added some linemen, so I look forward to the season and really putting this all together."