Containing the NFL's reigning MVP will be a top priority for the Bears when they host star running back Adrian Peterson and the Minnesota Vikings Sunday at Soldier Field.
"It's a huge challenge," said defensive coordinator Mel Tucker. "He's one of the best backs that's ever played the game, so everyone's got to do their job. I mean everyone is at the point of attack every time he gets the ball; front-side, back-side, d-line, linebackers, secondary.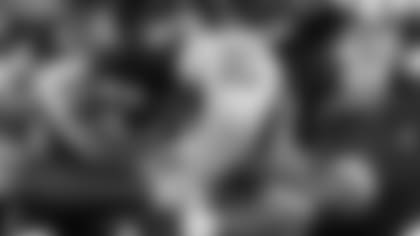 Cornerback Charles Tillman and the Bears defense will focus on Vikings running back Adrian Peterson Sunday at Soldier Field.
"Every time he gets the ball he can go the distance and we all know it. It's a matter of technique and fundamentals, and everyone doing their job and fitting where they're supposed to fit and playing hard and getting a population on the ball. We don't want to leave it up to one guy."
Peterson was already a perennial All-Pro before he earned MVP honors last season by rushing for 2,097 yards, the second most in NFL history. Remarkably, he accomplished the feat after tearing the ACL and MCL the previous Dec. 24 in a win over the Redskins.
"Every time he touches the ball it looks like he feels like it may be the last time he ever touches a football again," said coach Marc Trestman. "He was already a great player, and then you come off the kind of injury he did, you have a lot of time to think.
"It's obvious by the way he plays [that] he's had a lot of time to think. He knew the player he wanted to come back and be. He'll be all we can handle. The guys here know that. They've played against him enough to know that. It should make for a heck of a football game."
In 10 career games against the Bears, Peterson has rushed for an average of 108.5 yards and 14 total touchdowns. After being held to 85, 94, 51 and 39 yards by Chicago in four straight meetings from 2009-11, Peterson gashed the Bears for 108 and 154 yards in two games last season.
Last Dec. 9 in Minnesota, he ran for a team-record 104 yards in the first quarter including a 51-yard run on the first play from scrimmage. His two 1-yard touchdowns gave the Vikings an early 14-0 lead en route to a 21-14 win over the Bears.
"I think he's in a league of his own," said cornerback Charles Tillman. "He was definitely the MVP for a reason last year. I think our defense will have our hands full, but he's a guy that makes you play team football. You can't just have one guy tackle him."
"The biggest thing is just playing disciplined, gap-to-gap football," added defensive end Corey Wootton. "That's what we have to do to stop him, and rally to the ball because he's a powerful guy, shifty as well. He's a combination of everything, so you have to population tackle him."
Last Sunday Peterson raced for a 78-yard TD on the Vikings' first play from scrimmage in a Week 1 loss to the Lions. It was the longest run by a player on his first play of the season since the 1970 NFL/AFL merger. But Peterson mustered just 15 yards on 17 carries the rest of the game.
You can be certain that the Bears defense will spend part of the week studying how the Lions shut down the five-time Pro Bowler after his first run.
"They did a good job," Tucker said. "They did their jobs, guys were in their gaps. They fit the run, they tackled and were physical. That's what you have to do to handle the running game; try to minimize and eliminate the explosive plays. They did that the rest of the game and those were the results."