Shortly after agreeing to terms with tight end Martellus Bennett Tuesday, the Bears capped a highly productive first day of free agency by addressing another key need on offense.
The team agreed to a five-year contract with former Saints left tackle Jermon Bushrod, one of the NFL's most talented and durable offensive linemen. The 6-5, 315-pounder has been voted to the Pro Bowl each of the last two seasons and has started 54 consecutive games.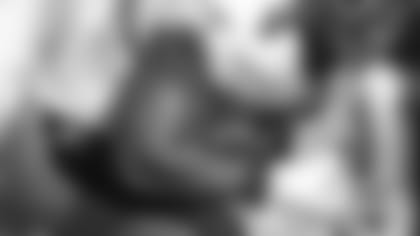 ](http://www.chicagobears.com/multimedia/photo-gallery/Jermon-Bushrod/4101a4d7-d3b8-47da-a75b-443941436d3c)
Jermon Bushrod has anchored the Saints' offensive line since becoming a starter in 2009. (Click photo to view gallery)
"We're very fortunate to get a left tackle in free agency," general manager Phil Emery told ChicagoBears.com. "It's very difficult to get them in the draft and it's extremely difficult to get them in free agency. To be able to get [Bushrod] was a coup for the Bears."
Bushrod, 28, was selected by New Orleans in the fourth round of the 2007 draft out of Towson. He anchored the Saints' offensive line during their Super Bowl-winning season in 2009 and has started all 16 games each of the past three years.
"He's a good athlete with good football intelligence," Emery said. "He plays very hard, and he's very passionate about football and studying the game to get better to help those around him."
After joining the Bears, Bushrod took to his Twitter account and wrote: "It's been a bittersweet day for my family and I ... Excited about our new opportunity in Chicago but extremely sad about leaving New Orleans. I'm very appreciative of the support I've gotten over the years from the #Whodatnation and I will never forget that as I move forward in life."
Bushrod will reunite in Chicago with new Bears offensive coordinator/line coach Aaron Kromer, who served as Bushrod's position coach the past four years in New Orleans.
During that span, the Saints permitted just 96 sacks, tied for the fewest in the NFL, led the league in total offense (413.6 yards per game) and ranked second in scoring (29.7 points per game). New Orleans also ranked in the top five in fewest sacks allowed each of those four seasons.
In 2011, the Saints set NFL records with 7,474 total yards (467.1) and 5,347 passing yards (334.2) while ranking second in scoring (34.2 points) and yielded the second fewest sacks (24).
Last season New Orleans ranked second in total yards (410.9) and third in scoring (28.8 points). They also allowed only 26 sacks, tied for the third fewest in the league.
"His familiarity with [Kromer] was a big plus because he'll be able to help the other linemen in the room understand exactly what Aaron wants and what the standards are," Emery said.
"Anytime you can get a starting left tackle through free agency who's been in the Pro Bowl twice and is still working extremely hard at getting better at the game of football, it's a big plus."

Click here to view Bushrod's career stats.