While Alshon Jeffery has emerged as a star this season, another second-year receiver the Bears will face Sunday in Cleveland has posted even more gaudy numbers in recent weeks.  
The Browns' Josh Gordon has amassed 774 yards in the last four games and 649 in the last three contests. Both are NFL records, according to the Elias Sports Bureau.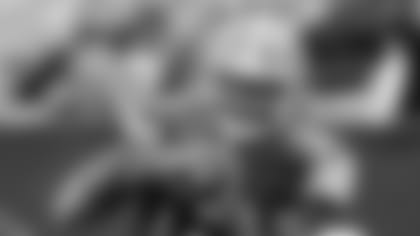 Browns receiver Josh Gordon leads the NFL with 1,400 yards in just 11 games.
"He has big-play ability," said defensive coordinator Mel Tucker. "He has a large catch radius. He's fast. He can take a five-yard slant and turn it into a 60-yard touchdown. Just really he's playing with a lot of confidence. The quarterbacks have confidence in him to go up and make plays. He can catch the ball in a crowd and win the contested one-on-one battle. He's a really good player."
Selected by the Browns in the second round of the 2012 supplemental draft, Gordon leads the NFL in receiving with 1,400 yards, even though he was suspended for the first two games of the season for violating the league's substance abuse policy.
"Josh has a lot of ability," said Browns coach Rob Chudzinski. "He's learning how to play and I think he's really progressed in that, and I think you're seeing a lot of that progress. He hasn't really played a lot of football. He played some last year and basically played one year in college. A lot of things are new to him. He's really grown in that regard."
Familiar face: Browns quarterback Jason Campbell, who spent last season with the Bears backing up Jay Cutler, will make his sixth start of the year Sunday against his former team.
In last weekend's 27-26 loss in New England, Campbell completed 29 of 44 passes for a career-high 391 yards with three touchdowns, no interceptions and a 116.6 passer rating.
"I know Jason pretty well," said coach Marc Trestman. "I know he's a very smart guy. He's a very good passer. He's got mobility. He's a quiet leader. He's not an outwardly emotional guy. But I've gotten to know him personally. He's a very passionate, very smart player and right now he's got good coaching around him."
Big strides: Campbell has kept in touch with Bears quarterback Josh McCown and is happy that his former teammate has performed so well when starter Jay Cutler was sidelined.
"We've texted each other during the season," Campbell said. "I've been very impressed with what he has been doing. A lot of it has to do with coach [Marc] Trestman. The type of offense that he brings in there, it gives your quarterback an opportunity to be successful.
"You look at Josh and you look at Jay; two very smart guys. Then you add coach Trestman as an offensive coordinator and it helps so much. I can just tell from last year to this year, from an offensive point of view, they're making big strides.
"You look at Brandon [Marshall] and you look at Alshon [Jeffery] and getting Martellus [Bennett] in there, those guys are on the right track, especially with [Matt] Forte and [Michael] Bush back there as well. They present a lot of problems to a lot of defenses."
Catch this: Bears defensive tackle Jeremiah Ratliff began his career at Auburn as a tight end, catching his first pass from Campbell on Sept. 1, 2001 against Ball State.
After finishing the season with three receptions for 38 yards, Ratliff was switched to defensive end as a sophomore. He eventually moved to defensive tackle as a senior, helping Auburn win the SEC Championship and finish 13-0 by defeating Virginia Tech in the Sugar Bowl.