Though Bears have just one game left in the 2014 season, the news coming out of Halas Hall has not slowed down. Since Sunday's game against Detroit at Soldier Field ended, the Bears have made a change at quarterback, confirmed that their sack leader tore his Achilles' tendon and seen a Lions player receive a suspension for a cheap shot taken in the game.
The third of those three topics was a major talking point for a Chicago player who didn't even suit up in the Week 16 loss to the Lions. Wide receiver Brandon Marshall, who went on injured reserve earlier in the month, appeared Monday on WMVP-AM 1000's 'Waddle and Silvy Show' for his weekly interview. He was asked about Detroit center Dominic Raiola, the player who stomped on Bears defensive tackle Ego Ferguson's leg in the third quarter of the game and received a one-game suspension by the league for that action.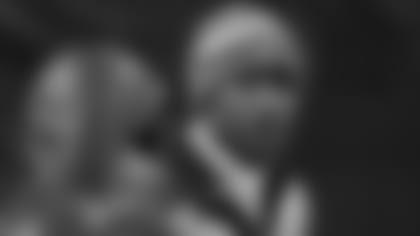 Brandon Marshall
Marshall and Raiola have had previous run-ins on the field, and the receiver did not hold back when asked his thoughts on the incident or the person involved.
"This guy is a dirty player, and he's a worse human being," Marshall said of Raiola. "It's ridiculous. He's shouldn't be allowed in the NFL. He should be banned from the NFL."
When informed that Raiola would miss just Detroit's Week 17 game against Green Bay, and not any of the Lions' postseason action, Marshall said that was unfair, especially given Raiola's track record of dirty plays. The stomp on Ferguson was the sixth infraction of the veteran lineman's career, yet this is the first time the league has taken action to suspend him. Marshall added that Raiola has insulted him before, mocking Marshall's history with mental illness before a 2013 game.
"I was really mad at him because in the game, I'm just warming up. I'm just standing there," Marshall recalled. "(Raiola's) like, 'Go take your medicine. Go do this you freaking weirdo, you freaking crazy guy. Go take your medicine.'
"Like, bro, we play football and I understand we're rivals. But at the end of the day, this is a brotherhood. We're all men here. This is only a platform for us to be better. You're sitting here being defined by this sport. It's terrible."
Coach Marc Trestman was asked about the incident later Monday evening on 'The Chicago Bears Coaches Show.' Trestman said that the league would take care of the issue and that his team would move on, adding that Ferguson showed great toughness returning to the game following the play.
The coach did discuss a pair of injuries that did take place during the 20-14 loss to Detroit. Quarterback Jimmy Clausen, making his first start of the season, suffered a concussion on the final drive of the game after taking an illegal hit to the head. Though Clausen did stay in to finish the contest, he began to feel delayed symptoms later Sunday evening.
On Monday, Clausen was ruled out for the Week 17 finale at Minnesota because of the head injury, meaning Jay Cutler will return to the starting lineup.
"Jay was a really good teammate last week during the entire change. He was really good in all our meetings, he was active in our game planning and in our preparation," Trestman said on the Chicago Bears Radio Network. "He's ready to go. We told him about Jimmy's situation and he's getting ready for the Vikings."
Defensive end Willie Young also will not play in the finale, as he tore his Achilles in the loss to Detroit, ending his season. Young, who was signed as a free agent in the spring, finishes his year with 40 tackles and 10 sacks, earning more playing time as the year progressed. He currently has a walking boot on his left leg and will undergo surgery sometime in the coming weeks.
"(Willie) is one of the most positive guys in our locker room. Every day he comes in with a smile," Trestman said. "He'll talk to you about anything and it's always positive. He loves to talk about fishing, obviously, but he's added a lot to our locker room; A great addition to our football team."
With just one week remaining and still so much circulating around the team, it can be hard to focus on the task at hand. Trestman was asked about all the craziness the Bears have seen since the season started, and how it has impacted their preparation on a weekly basis. Yet he said the team has its sights set on a clear task to close out the year.
"It's been one of the most unusual six months that I've spent in the National Football League in my 20 years or so that I've spent in the league," the coach said. "I'm not trying to sugarcoat it, 5-10 is 5-10, it's not a pretty sound. We're really disappointed about it. But our players and coaches have to work, they're giving their best. There will be a time to look back and evaluate it, see where we are, see what we can do to get better.
"But the most important thing we can do right now for our football team is to get ready to beat Minnesota."