Six days after shutting down star receiver Calvin Johnson in a win over the Lions, the Bears defense will be challenged by another explosive wideout Sunday at Soldier Field.
Old nemesis Steve Smith of the Carolina Panthers has torched the Bears over the past decade, recording 38 receptions for 665 yards and two touchdowns in four career games.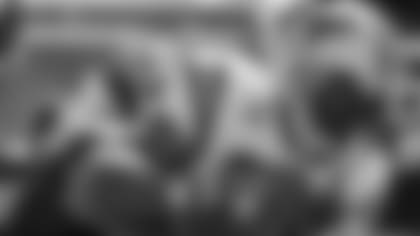 Steve Smith caught eight passes for 181 yards last season against the Bears at Soldier Field.** "He's a great competitor," said cornerback Tim Jennings. "He is one of the top receivers in the league. He's good at what he does. He wants to make his team better, and with that drive that makes you good."
In 2005, Smith had 14 receptions for 169 yards in a 13-3 loss at Soldier Field. He returned to Chicago two months later and practically led the Panthers to a 29-21 playoff victory singlehandedly by catching 12 passes for 218 yards and 2 TDs.
Smith excelled against the Bears again last season, catching eight passes for 181 yards including gains of 53, 27, 26 and 26 yards in a 34-29 loss at Soldier Field.
"He's a smaller guy, but he plays big," said cornerback Charles Tillman. "He's a nightmare to defenses and I think this will be another good match-up for this defense."
In six games this season, Smith has 28 receptions for 471 yards.
"You definitely want to get your hands on him, kind of slow him down and mess up the timing between him and the quarterback," Jennings said.
Backfield in motion: The Panthers haven't been running the ball as frequently as many expected-they rank 25th in the NFL in rushing attempts-but they are dangerous on the ground.
Cam Newton, who set an NFL record last season for touchdown runs by a quarterback with 14, leads Carolina in rushing with 273 yards and three TDs on 46 attempts. Newton gains a lot of his yards on read-option plays that are extremely rare in the NFL.
"It's just something you're not seeing a lot, so you've got to get caught up during the week in reads and all those things," Tillman said. "Everybody's got an assignment. You've got to follow through with your assignment, which kind of fits into our system a little bit. We're a gap control defense, so it's got to be on top of those things."
The workload in the Panthers backfield is shared by running backs DeAngelo Williams (50 carries for 177 yards and 2 TDs) and Jonathan Stewart (35-142-0).
"They're both a headache for you," said middle linebacker Brian Urlacher. "Either one of them as a starter could have 1,500 yards on any team they play on. They're good backs. Either one of them could run it the distance."
Aches and pains: The only Bears player who will miss Sunday's game against the Panthers with an injury is rookie receiver Alshon Jeffery, who remains sidelined with a hand injury.
Quarterback Jay Cutler, who suffered bruised ribs in Monday night's win over the Lions, practiced without restrictions Friday for the second straight day and is listed as probable.
"We're healthy," said coach Lovie Smith. "We don't have anyone really to report except for Alshon Jeffery on the injury list, so we're pretty excited about that."
Stamp of approval: Urlacher has been impressed with rookie defensive end Shea McClellin. The first-round draft pick has produced 2.5 sacks and five quarterback pressures so far this season.
"He's good," Urlacher said. "He's really surprised me. He can run. He can put his hand on the ground. He plays the run well. For a smaller defensive end, he plays the run well.
"He does a lot of stuff in pass coverage for us now too. We've got some different packages now with him in there. He's really impressed me. He doesn't screw up. As a rookie, you don't want guys screwing up and he hasn't done that. He's very versatile. He's a big guy who can run."