Generating a consistent pass rush will be a top priority for the Bears when they face veteran quarterback Carson Palmer and the Arizona Cardinals Sunday at Soldier Field.
In last weekend's 31-23 season-opening loss to the Green Bay Packers, the Bears did not record a sack or even a quarterback hit against reigning NFL MVP Aaron Rodgers.
"The most improvement we can make is just improving our pass rush and winning our one-on-one battles a little bit more than we did," said defensive coordinator Vic Fangio. "A big part of pass defense is pass rushing. We've got to do a better job of getting some heat on the quarterback."
Palmer looked very sharp last weekend in returning to action for the first time since tearing his ACL last November. The 13-year veteran passed for 310 yards and three touchdowns with no interceptions and no sacks in a 31-19 win over the visiting New Orleans Saints.
"He's always been one of the best quarterbacks in the league," Fangio said. "I coached against him a bunch when he was with Cincinnati, then saw him the last couple years when he was with Arizona. He's a great passer, throws a great deep ball, which is something [coach] Bruce [Arians] really likes.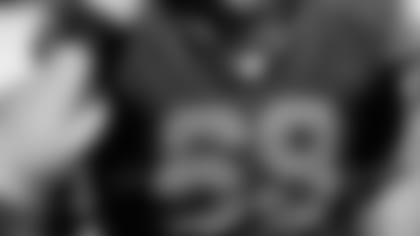 Outside linebacker Jared Allen recorded three tackles against the Packers last Sunday.

"He's got good command of their offense. He likes their offense. You can tell that he likes it. He thinks it fits him and I think it does too. Back in the day he was a good scrambler and he still can to some degree. He's a complete quarterback; always has been."
Palmer is 14-2 as a starter since Week 8 of the 2013 season, a .875 winning percentage that's tops in the NFL over that span. With a victory over the Bears, he would become the first Cardinals quarterback to win eight straight starts since Ray Mallouf won 10 in a row in 1948.
Palmer has excelled in the past against the Bears, winning all three of his career starts while throwing for eight touchdowns, one interception and a 120.3 passer rating.
Outside linebacker Jared Allen doesn't see much difference in preparing for Palmer versus Rodgers.
"Carson looks really good right now," Allen said. "He's moving better than I've seen him move in the last few years. He's another guy who knows where the ball needs to go, high intelligence, good accuracy, ball out quick. From that standpoint, very similar.
"Aaron's probably a little more mobile as far as extending plays and making plays on the run, Carson more in the pocket. Still, I watched some of his escapes against the Saints and he wasn't looking like a 35-year-old man or however old he is. He looked like he came off that knee [injury] nice. I've played against Carson for a long time and he's always played at a high level."
When a reporter implied that the defense would have an easier time against Palmer than Rodgers—a two-time NFL MVP who has owned the Bears—Allen wasn't buying what he was selling.
"I expect everybody's best," Allen said. "Obviously if his name's Carson Palmer, he's not Aaron Rodgers. So by birth they're different. But as far as talent level they're both 1-0 right now, they both looked pretty darn good on Sunday and they've both been to the Pro Bowl. The accolades are up there and Carson was the No. 1 overall pick [in the 2003 draft], so you don't ever sleep on a guy like that."
The Bears don't intend to roll over and hit the snooze button Sunday—seven days after failing to get to Rodgers, who passed for three touchdowns and posted a 140.5 passer rating.
"We had a rush plan going into that game," Allen said. "There were times that it executed really well, and there are times where you've just got to get off a block and make a play. That's what football's about. You've got to win one-on-one match-ups and we didn't win enough of them.
"As far as getting him on the ground or hitting him, we didn't do a very good job of that. I take that extremely personal because that's something I love to do, is hit quarterbacks. So it's in our minds. This week we've got to force them to be one-dimensional and we want to make them uncomfortable."