The Bears will look to even the score against quarterback Brock Osweiler in Sunday's season opener against the Houston Texans at NRG Stadium.
Last season when he played for the Denver Broncos, Osweiler beat the Bears in his first NFL start, completing 20 of 27 passes for 250 yards with two touchdowns and a 127.1 passer rating.
"Brock is highly intelligent," said coach John Fox. "He spent a couple good years under a pretty good guy in Peyton Manning. He's wired right from a mental standpoint. He's big, he's tall. He is athletic for a tall man. A lot was made of his height and he hands in the pocket pretty well."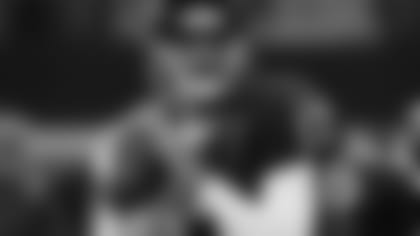 QB Brock Osweiler completed 20 of 27 passes for 250 yards against the Bears in 2015.


At 6-foot-8, Osweiler is the tallest quarterback in the NFL. He was selected by the Broncos in the second round of the 2012 draft out of Arizona State and appeared in 13 games as a reserve his first three seasons from 2012-14 when Fox was Denver's head coach.
Osweiler ultimately played well enough in seven starts last season to sign a four-year, $72 million contract with the Texans. This summer he helped Houston to its first 4-0 preseason, completing 27 of 39 passes for 297 yards with two TDs, one interception and a 97.9 rating in three games.
"He's got a big arm, so he can throw the ball deep and intermediate," said defensive coordinator Vic Fangio. "He's more athletic than you think for a guy as tall as he is. Bigger guys are harder to get down. If you get a glancing blow on him in the pocket with the run, he doesn't go down quite as easy.
"I think he's a talented quarterback and they obviously did too with the amount of money they gave him. I don't think Denver wins the Super Bowl last year without him coming in and playing well for those 7-8 games."
Kind of choppy: Fangio was disappointed that first-round draft pick Leonard Floyd's development in training camp and the preseason was slowed by injuries and illness.
"Overall, his camp was kind of choppy," Fangio said of the outside linebacker from Georgia. "First, early on, he had an illness that kept him out a couple days. Then he came back. Then he dinged his shoulder a little bit. It kept him out a couple days. Then he tweaked the hamstring, which kept him out. So I think the best word has been choppy and inconsistent more from an availability standpoint to where he could have a large chunk of good, learning practices in a week playing in a preseason game.
"He could have played in that third preseason game. But I really felt like his work that week was choppy. He didn't really practice until a day or two before. So I wanted to get him a good dose of rest and get healthy. We worked him out hard and then [wanted to] give him a lot of plays in the Cleveland game, which we did. And I think that was the best path to use and feel like in spite of everything he's about as ready as he can be, not if he had been all available in camp. But he's ready to go."
Fangio stressed that he's not upset at Floyd for missing time, saying: "I'm disappointed that happened, but I'm not mad at him. He didn't do it on purpose. But it has retarded his development a little bit."
Injury report: Bears players who were limited in practice Wednesday included Long (shoulder); cornerbacks Kyle Fuller (knee) and Bryce Callahan (groin); safety Deon Bush (hamstring); fullback Paul Lasike (wrist); receiver Deonte Thompson (knee/ankle) and defensive end Cornelius Washington (ankle/knee).
Roster move: The Bears filled the 10th and final spot on their practice squad Wednesday by signing tackle Laurence Gibson.
The 6-6, 315-pounder was selected by the Cowboys in the seventh round of the 2015 draft out of Virginia Tech. He spent his entire rookie season on the Chiefs practice squad and was with the Falcons this summer.