The Bears will face one of their most daunting challenges of the season Sunday when they host quarterback Aaron Rodgers and the Green Bay Packers at Soldier Field.
Rodgers, who has led the Packers to four straight NFC North titles, won his second NFL MVP award last season and his 106.0 passer rating is tops in league history.
"He's a tremendous competitor," said Bears coach John Fox. "I played against him his first year when he replaced Brett [Favre]. You could see immediately he has all the physical skills it takes—the mobility, the quickness of release and the arm strength. He's surrounded by some pretty good players. I can understand how he's had a lot of success and they have."
Rodgers has dominated the Bears, compiling a 12-3 career record as a starter while completing 310 of 455 passes for 3,692 yards with 31 touchdowns, 10 interceptions and a 106.2 passer rating.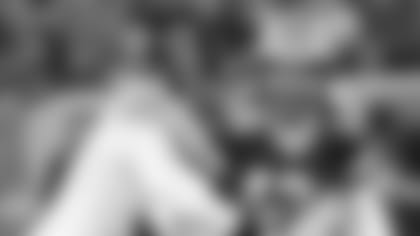 Jared Allen brings some pressure on Aaron Rodgers.
Rodgers has won the last nine games he's started and finished against the Bears. Chicago's only victory over Green Bay since 2010 came in 2013 when Rodgers broke his collarbone on the Packers' first possession when he was sacked by Shea McClellin.
Bears defensive coordinator Vic Fangio was 4-0 against Rodgers and the Packers while serving in the same position with the San Francisco 49ers from 2011-14. But Green Bay still averaged 25 points in those four defeats.
"There is no one way to stop a great quarterback like [Rodgers]," Fangio said. "Some people would say pressure him, but he can hurt you there. Drop a lot of guys, he can hurt you there. That's why he's a great quarterback. There's not one way to play him. You've just got to mix it up."
In their first game operating his system, Fangio concedes that the Bears may not be capable of making the type of adjustments they'll eventually employ after his players gain more experience in the defense.
"Any time you play a great offense led by a great quarterback, you'd always like to have a tweak here or there, but our guys may not be ready for that yet," Fangio said. "It's better for us to know what we're doing rather than to try and fool a great quarterback. We might not be able to tweak things as much as we'd like to."
Rodgers embarrassed the Bears last year, passing for 617 yards with 10 touchdowns and no interceptions in 38-17 and 55-14 victories. In the second meeting in Green Bay, he set an NFL record with six TD passes in the first half as the Packers raced to a 42-0 halftime lead.
Defensive end-turned-outside linebacker Jared Allen was asked if the Bears view last year's blowout losses to the Packers as motivation heading into Sunday's opener.
"If you were a part of them you do," Allen said. "No one wants to be part of a drubbing. Then again, we're a completely different team. They're a completely different team. That's the best part of what coach [John] Fox preaches. You can't spend a lot of time looking in the rearview mirror and you can't look too far ahead. We've got to focus on the present.
"Come Sunday we're going to play four quarters of football and the best team is going to win. You've got to prepare and prepare and prepare so you can be that best team."
According to Allen, the key for the Bears will be to patiently stick to their game plan without getting frustrated if they don't get to Rodgers early.
"He can get rid of the ball so fast," Allen said. "It's staying on top of what your rush plan is and staying on top of it to where when he does hold that ball you can hopefully harass him and get him off his point. If you let that guy get into a rhythm, he's a dangerous man."