Anyone who believes that "it doesn't matter how you start, but how you finish" hasn't been paying close attention to recent Bears games.
Believe it or not, the Bears have outscored each of their last three opponents in the second half and still lost by 13, 28 and 41 points. Of course, the problem has been that the Dolphins (14-0), Patriots (38-7) and Packers (42-0) combined to outscore the Bears 94-7 in the first half.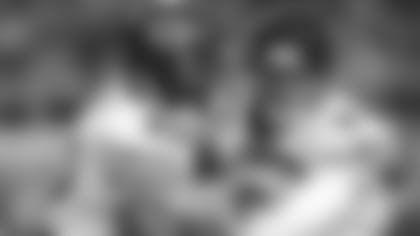 The Bears offense has produced just seven points in the first half in its last three games.
With that in mind, special teams coordinator Joe DeCamillis has a solution for what ails the team as it prepares for Sunday's home game against the Vikings.
"The biggest issue is you've got to play good at the start of the game to develop some confidence," DeCamillis said. "Whatever phase it is, we just have to make sure that we're solid at the start of the game, get confidence going and then it tends to feed on one another after that."
Unfortunately for the Bears, all three phases have stumbled out of the gate.
The offense's first two possessions in the last five games have produced eight punts and two interceptions. In the first half of the last two games against the Patriots and Packers, the defense allowed 10 touchdowns and one field goal on 12 possessions.
On special teams, Chris Williams made a poor decision when he brought the opening kickoff against Green Bay out from eight yards deep in the end zone and the mistake was compounded by a penalty that forced the Bears to begin their first possession at their own 6-yard line.
Health update: Seven Bears sat out practice Wednesday due to injuries: tight end Martellus Bennett (ribs), guard/tackle Eben Britton (illness), cornerback Tim Jennings (knee), receivers Brandon Marshall (ankle) and Josh Morgan (shoulder), tackle Jordan Mills (ribs) and defensive end Cornelius Washington (illness). Linebacker Darryl Sharpton (hamstring) was limited.
When Mills exited last Sunday night's game in Green Bay, Michael Ola moved from left guard to right tackle and Brian de la Puente was inserted at left guard. With Mills ailing and regular left guard Matt Slauson out for the season with a chest injury, de la Puente could start at the position Sunday.
"He's going to have an opportunity to play and we'll see where Jordan's at and continue to move him around," said coach Marc Trestman. "Losing Jordan, losing Matt, we like all these guys. We think they're all good players that can play those positions and we can have success. But it is obviously causing us to move some people around."
The Vikings listed only two players on their injury report Wednesday: Tight end Kyle Rudolph (abdomen/groin) was limited, while tight end Chase Ford (foot) practiced without restrictions.
Self-induced pressure: Though Mel Tucker's job security has been a popular topic among fans and media, the Bears defensive coordinator insists that he doesn't feel any outside pressure.
"I just feel pressure to coach the best that I can," Tucker said. "That's the pressure I put on myself. I've never been anywhere there wasn't pressure to win and there wasn't pressure to play well. I've never been in a situation where it wasn't like that on a day-to-day basis. I don't feel any pressure other than what I put on myself, and that's a lot of pressure."
Asked if there are areas where Tucker believes he can do a better job, he said: "Across the board. I don't have enough time to tell you—we don't have enough time here—to talk about areas I can do better because every single thing that we do or that I do, I'm looking to do it better. Everything."
Trestman gave Tucker a vote of confidence Monday and offered him support again Wednesday.
"We have an experienced staff," Trestman said. "He's one of those guys. He works every day to get our guys better. That's where we're focused. We're focused on trying to get better and become a better football team each and every day. That's what he's doing."
Roster moves: The Bears on Wednesday signed receiver B.J. Cunningham and guard Antoine McClain to their practice squad.
Cunningham appeared in two games with the Eagles last season after being selected by the Dolphins in the sixth round of the 2012 NFL Draft out of Michigan State. McClain entered the NFL in 2012 as an undrafted free agent with the Ravens. He has also spent time with the Raiders, Bills and Saints.