The mood at Halas Hall improved considerably after the Bears recorded their first win of the season last weekend. But that hasn't changed how they're preparing for Sunday's game in Kansas City.
"Winning has cured more ills than penicillin and winning just feels better," defensive coordinator Vic Fangio said Wednesday. "But we've still got another game coming up."
As they prepare to play the first of four road contests in a five-game span, the Bears (1-3) are determined to build on their victory over the Raiders when they visit the Chiefs.
"Whether we are 1-3 or 3-1, we just have to go out there together," said defensive end Jarvis Jenkins. "We just need to keep it rolling. One game is not going to define our season. There is a lot of football left. We just need to keep it moving forward."
Health update: Bears players who did not practice Wednesday included receiver Eddie Royal (ankle), tackle Jermon Bushrod (concussion/shoulder), guard Patrick Omameh (ankle), cornerback Sherrick McManis (hamstring) and safety Antrel Rolle (ankle).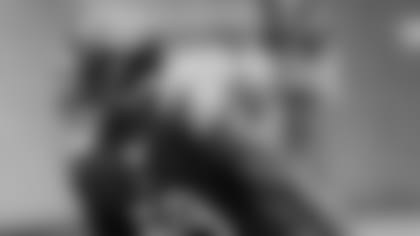 Linebacker Christian Jones


Those who were limited were quarterback Jay Cutler (hamstring), receiver Alshon Jeffery (hamstring), tackle Kyle Long (back/ankle), defensive linemen Jeremiah Ratliff (ankle) and Will Sutton (elbow), inside linebacker Shea McClellin (elbow), cornerback Alan Ball (groin) and punter Pat O'Donnell (knee).
Jeffery has missed the last three games with a hamstring injury.
"You're talking about a quality wide receiver in the league," said coach John Fox. "Any time you're missing a guy who is a starter—there's a reason he's a starter—it's problematic. When you look around the league, it's happened to a variety of football teams."
Secondary issues: Fangio was pleased with how veteran cornerback Tracy Porter performed in last Sunday's win over the Raiders. Starting in place of the injured Ball, Porter recorded three sacks and one pass breakup.
"He did a really nice job for us," Fangio said. "He's got good corner ability. He's got good movement, got good football instincts and savvy, knows how to play the game, understands the game. The game's not too big for him."
Fangio didn't provide as glowing a review of rookie safety Jonathan Anderson, who played most of the second half after Rolle exited with an ankle injury. Asked what Jones-Quartey showed in the game, Fangio said: "He needs more practice."
"He did OK," Fangio said. "But in defense of him, he hasn't been getting a lot of reps. He's just been here a couple of weeks. Anytime you have to play this early in the season and you just got here and you weren't in the offseason and then training camp getting reps, you're behind the eight ball, and he was behind the eight ball. But he survived. There were plays that he could have played better and should have played better, and hopefully now with a week's practice, he'll do better."
Good-luck charm: The Chicago Cubs haven't won a World Series since 1908, but that could change this year—thanks to Fangio, who seems to be a good luck charm for Major League Baseball teams.
"Don't be surprised if the Cubs win the World Series this year," Fangio said. "In San Francisco I was there for five years and the Giants won three World Series; they had never won one before. I was in Houston when they got to their only World Series. I bring good luck to the baseball teams."
The Cubs visit the Pittsburgh Pirates Wednesday night in the National League wildcard game.