LANDOVER, Maryland — The Bears lost gunslinger Jay Cutler to a groin injury in the second quarter, but that's not why they dropped a 45-41 shootout to the Redskins Sunday at FedEx Field.
Backup quarterback Josh McCown performed exceptionally well in relief, but a porous Bears defense allowed the Redskins to score touchdowns on four of their final six possessions, including the game-winner on Roy Helu Jr.'s 3-yard run with :45 remaining.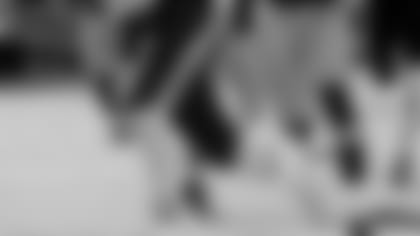 Matt Forte ran for three touchdowns in Sunday's loss to the Redskins. Click here for more photos.
In a game that was tied at 3, 10, 17, 24 and 31, the Bears took a 41-38 lead on McCown's 7-yard touchdown strike to Martellus Bennett with 3:57 to play. But the Redskins answered as they did all afternoon with a 12-play, 80-yard TD drive.
"Our offense got a lead for us," said defensive lineman Corey Wootton. "They needed to [march] the whole field to win the game and they drove it on us. That's on the defense."
McCown completed 14 of 20 passes for 204 yards with 1 TD and a 119.6 passer rating.
"I thought Josh came in and did a great job," Wootton said. "It just comes down to us, and it's frustrating that we let them drive on us like that, the whole field. It's been a theme. We've got to do better. This is the one that's really frustrating. It was on us and we didn't come through."
If anyone at FedEx Field didn't know the words to "Hail to the Redskins" by the end of Sunday's game, they weren't paying attention. The song is played following every Washington score.
"They moved the ball up and down the field," said cornerback Tim Jennings. "Of course, we're not used to it. But it's the NFL and somebody on defense has to make a play."
With their third loss in four games, the Bears (4-3) slipped into a second-place tie in the NFC North with the Lions (4-3), a half-game behind the Packers (4-2). The Redskins improved to 2-4.
Sunday's defensive meltdown overshadowed impressive performances by McCown and others. Matt Forte rushed for 91 yards and a career-high three touchdowns, including a dazzling 50-yarder. Alshon Jeffery caught four passes for 105 yards. And Devin Hester returned a punt 81 yards for a TD.
But it wasn't enough as the Bears allowed touchdown drives of 80, 74, 83, 80 and 80 yards. They had no answer for Robert Griffin III, who completed 18 of 29 passes for 298 yards with two touchdowns, one interception and a 105.2 passer rating. He also rushed for a season-high 84 yards on 11 carries.
Helu ran for a career-high three touchdowns, Alfred Morris rushed for 95 yards on 19 attempts and tight end Jordan Reed caught nine passes for 134 yards and one TD.
For the first time in their 94-year history, the Bears lost a game when scoring more than 38 points. It's also the first time they've ever permitted at least 21 points in each of their first seven games of a season.
The defense ended Sunday's contest with Charles Tillman (knee) and Lance Briggs (shoulder) on the bench with injuries, but one of their fellow Pro Bowlers wasn't using that as an excuse.
"We are all accountable," Jennings said. "Whether they're on the field or not, somebody has got to make a play. Hopefully we get those guys back healthy. If they're not healthy, it's next man up."
Tillman generated the Bears' only takeaway when he intercepted a Griffin pass and returned it 26 yards to the Washington 10 midway through the first quarter. Two plays later, Forte's 2-yard TD run gave the Bears a 10-3 lead.
But the Redskins responded with 14 points in just :17 early in the second period to take a 17-10 lead. One play after Helu's 14-yard touchdown run, Cutler's pass deflected off Jeffery's hands and was intercepted by Brian Orakpo, who returned it 29 yards for a TD.
Things went from bad to worse for the Bears as Cutler was knocked out of the game when he was sacked by defensive lineman Chris Baker with 9:56 left in the first half. Cutler remained down on the field for several minutes before slowly limping to the sideline.
Coach Marc Trestman said after the game that Cutler would undergo an MRI on his groin Monday.
"He'll be evaluated when we get back [to Chicago] and we'll know more in the next couple days," Trestman said. "I don't have any sense at all [how severe it is]. I'm just going to wait and see what the doctors say."
Cutler exited after completing 3 of 8 passes for 28 yards with one interception and an 8.3 passer rating. McCown excelled in his place, but he couldn't keep the Redskins out of the end zone.
"Washington did a nice job going to the no-huddle and putting the pressure on our defense in terms of keeping them on the field and running a lot of plays," Trestman said. "They were able to make the plays that we weren't able to make today, and really that's the story of the game."