GREEN BAY, Wis. – The explosive Bears offense that created such a buzz by racking up 41 points in last Sunday's season-opening win over the Colts was nowhere to be found Thursday night at Lambeau Field.
Four days after scoring five touchdowns and compiling 428 total yards against Indianapolis, the Bears mustered just one TD and 168 yards in a discouraging 23-10 loss to the Green Bay Packers.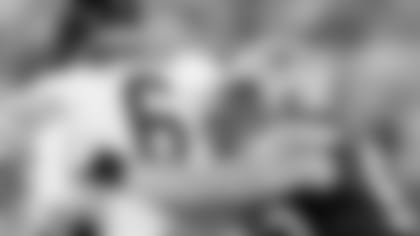 Jay Culter was sacked seven times during the Bears' loss in Green Bay.
"It was a disappointing effort," said coach Lovie Smith. "I thought we would play better in a lot of different areas. We know it's always tough coming up here. They're a good football team. But we're better than we showed tonight."
Quarterback Jay Cutler threw four interceptions and was sacked seven times while connecting on just 11 of 27 passes for 126 yards with one touchdown and a 28.2 passer rating.
With two interceptions, Packers cornerback Tramon Williams caught as many of Cutler's passes as Bears receiver Brandon Marshall, who had two receptions for 24 yards.
With the defeat, the Bears (1-1) have now dropped five straight and seven of their last eight to the Packers (1-1) since 2009.
The Chicago defense played well enough to win, registering five sacks of Aaron Rodgers and generating two takeaways, including Tim Jennings' third interception of the season. Rodgers completed 22 of 32 passes for 219 yards with 1 TD, one interception and an 85.3 passer rating.
Matt Forte rushed for 31 yards on seven carries and caught four passes for 49 yards before exiting with an ankle injury he sustained on the opening possession of the second half. Replacement Michael Bush rushed for 54 yards on 14 attempts.
The Bears were outgained 87-0 in the first quarter. Forte rushed for 25 yards on four carries, but the Bears lost 23 yards on two sacks and two yards on Cutler's only completion in three attempts. Their only first down came on a pass interference penalty against the Packers.
The Bears allowed sacks on three of their first four possessions, resulting in situations of third-and-19, third-and-22 and third-and-33.
After Mason Crosby's 48-yard field goal gave the Packers a 3-0 lead early in the second quarter, Green Bay scored 10 points in the final two minutes of the first half to take a 13-0 lead.
With Crosby lining up to attempt a 45-yard field goal, holder Tim Masthay flipped a shuffle pass to tight end Tom Crabtree, who raced 27 yards for a touchdown to make it 10-0 with 1:50 left.
After Cutler's pass intended for Earl Bennett over the middle was intercepted by a diving Williams, Crosby's 35-yard field goal on the final play of the half widened the margin to 13-0. The kick came two plays after Lance Briggs had dropped a sure interception over the middle.
The Bears had a chance to cut the deficit to six points on the opening possession of the second half. But they were hurt by another drop as a wide open Marshall failed to hang onto what would have been a 27-yard touchdown pass in the end zone on third-and-four.
The Bears settled for Robbie Gould's 45-yard field goal, trimming the margin to 13-3.
The Packers responded with 10 points in a :21 span early in the fourth quarter. After Crosby's 54-yard field goal, Cutler's pass into double coverage intended for Marshall was intercepted by Williams, who returned it 38 yards to the Chicago 26. On the next play, Rodgers connected with Donald Driver for a 26-yard TD pass to make it 23-3.
The Bears crept to within 23-10 on Cutler's 21-yard TD pass to Kellen Davis on fourth-and-seven with 6:49 remaining. The score was set up by Jennings, who intercepted a Rodgers pass and returned it 20 yards to the Green Bay 24.
The Bears will have the weekend off to lick their wounds before returning to Halas Hall Monday to start preparing for next Sunday's game against the St. Louis Rams at Soldier Field.
"Normally you see a lot of improvement from Game 1 to Game 2," Smith said. "We have to really make progress and see improvement from 2 to 3 because we're better than what we played tonight.
"In the NFL some weeks it just doesn't go your way. The other team plays better. You just have to go back, correct those things and get ready for the next week. We're 1-1 right now and we've got to find a way to get to 2-1.