When Phil Emery spoke to the media last Tuesday about his decision to dismiss coach Lovie Smith, the Bears general manager delivered what one newspaper columnist described as a "virtuoso performance."
Spending nearly an hour behind the podium, Emery expressed his thoughts about the direction of the franchise in great detail with clarity, honesty and candor. He was well-organized and extremely thorough—just as he was a year earlier when he interviewed for the GM job.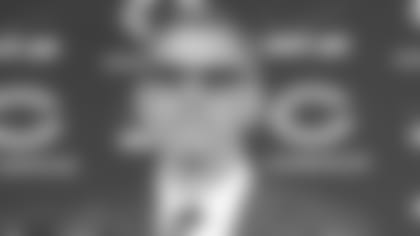 Bears general manager Phil Emery speaks to the media last Tuesday at Halas Hall.

"It's exactly what I saw," Bears president and CEO Ted Phillips said following last week's press conference. "When you have an interview with someone, you don't know how their actions are going to match up with what they say they're going to do.

"But in Phil's case, he's really built a confidence level internally with the kind of decision-making process he goes through; the thoroughness, the detail, the care that he takes, the analysis. And that gives you a much better level of confidence that when it's time to make the difficult decisions—like bringing in a new head coach—that he can get the job done."

Like Phillips, Bears chairman George H. McCaskey believes in Emery's ability to land the right head coach.

"We're very confident in Phil," McCaskey said. "He's done an outstanding job since he's been here. Ted and I have complete faith in him. Our family has complete faith in him to make the right choice to get the Bears back to the championship level."

During his press conference, Emery indicated that the most significant factor in his decision to fire Smith was the Bears failing to qualify for the playoffs five of the last six seasons.

"As a professional sports team and as a historic charter member of the greatest sports league in this world, the NFL, our No. 1 goal always has to be to win championships," Emery said.

"To win championships, we must be in contention on a consistent basis, and to be in contention we have to be in the playoffs on a consistent basis. Five of the last six years we have not been there. We have fallen short."

In his search for a new coach, Emery is seeking someone who has demonstrated excellence in his role and who possesses excellent organizational, leadership and administrative skills.

Emery revealed last Tuesday that the Bears would consider a wide variety of candidates with different backgrounds. That includes coaches who have worked on offense, defense and special teams, as well as in the NFL and at the collegiate level.

Ideally, Emery would like to have a new coach in place by Jan. 19, when the East-West Shrine college all-star game is played. But he acknowledged that he may have to wait past that date if one of the candidates coaches on a team that goes deep in the NFL playoffs.

While Emery is conducting the initial interviews and will make the ultimate decision, Phillips and McCaskey are expected to meet with 2-3 finalists.

"We have great confidence in Phil," Phillips said. "He's shown the ability to be thorough, to be detailed, to know what it takes for a coach here to be successful.

"When he brings in the final candidates, then the three of us will sit down and talk about the pros and cons of each one and I'm confident that at the end of the day we're all going to agree on who the final person should be to lead the Bears."

Roster move: The Bears on Monday signed quarterback Matt Blanchard and receiver Terrence Toliver to reserve/future contracts.