With starting running back Andre Ellington sidelined by a knee injury, the Bears are gearing up to face veteran Chris Johnson and rookie David Johnson Sunday at Soldier Field.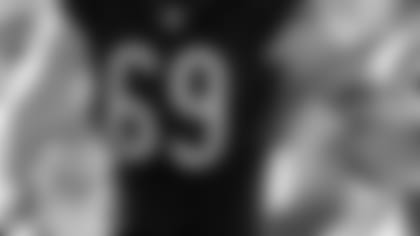 Jared Allen and the Bears defense ranks 14th in the NFL in total yards after Week 1.
Chris Johnson signed with the Cardinals in August after spending his first seven NFL seasons with the Titans (2008-13) and Jets (2014). He rushed for at least 1,000 yards in all six of his seasons with Tennessee, including 2,006 yards in 2009.
"Chris Johnson has been around a long time," said Bears defensive coordinator Vic Fangio. "Everybody knows he's a really fast player. That one time with Tennessee, he had that great season and was a big part of their offense.
"I think he'll take advantage of this opportunity and try to shine again and show everybody that he's back to what he was. I think he'll be dangerous."
David Johnson, meanwhile, was selected by the Cardinals in the third round of this year's draft out of Northern Iowa. He produced two impact plays in limited action in last weekend's 31-19 season-opening win over the Saints, turning a short pass into a 55-yard touchdown and returning a kickoff 43 yards.
"Johnson is certainly fast," said Bears special teams coordinator Jeff Rodgers. "He's got good vision. He's got good size. He had an explosive return last week and hopefully we can wrap him up."
Still dangerous: The Cardinals passing game features eight-time Pro Bowl receiver Larry Fitzgerald, a 12-year veteran who led Arizona with six receptions for 87 yards against the Saints.
"He's still a very good player," Fangio said. "They say he doesn't run as well as he used to, but every time he catches the ball in the open field, nobody seems to catch him. He's a big, strong receiver, very competitive. Great runner after the catch. He's still a top receiver."
Impressed with Shea: Fangio was pleased with how Shea McClellin performed in the Bears' season-opening loss to the Packers as well as how the inside linebacker relayed calls to the rest of the defense. McClellin was credited with a team-high 10 tackles.
"I thought he did very well," Fangio said. "He handled the communication part and getting the calls in and out very well. We didn't have any confusions as it relates to that, and I thought he played his position well."
Hand in the ground: Defensive end-turned-outside linebacker Jared Allen has the option of lining up in a two- or three-point stance on same plays. Given his experience as a traditional defensive end the first 11 years of his NFL career, his preference is no surprise.
"I love the three-point stance," Allen said. "I feel at home with my hand in the grass. It's nostalgic. I start misting up and I'm late off the ball. I've got to work on that.
"There are different times where the two-point stance is more effective. But if it's crunch time and it comes down to third-and-long and I know I'm rushing, I'm probably going to have my hand in the ground. There's nothing better than having your hand in the ground and getting after it."