Overcoming season-ending injuries to special teams standouts Sherrick McManis and Craig Steltz won't be easy, but the Bears have no other choice as they prepare for Sunday's game against the Packers.
"It's very difficult at this point," said special teams coordinator Dave Toub. "There's not a guy on the street that you can take in, get here and then all of a sudden be a great player for you because he hasn't been in the room, he hasn't heard your system and he doesn't know the plays.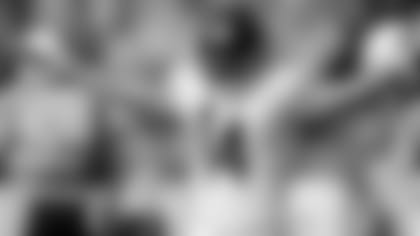 Eric Weems has 11 special teams tackles this season, tied for the Bears lead with Blake Costanzo.
"So we have to get it done with the guys that are here, the guys that are on our team. I explained that to the guys. Those guys that we're going to ask to do a little bit more will do a good job for us."

Kyle Adams, Armando Allen, Zack Bowman, Blake Costanzo, Anthony Walters and Eric Weems are among those who will try to pick up the slack on special teams.

They'll face a difficult challenge Sunday at Soldier Field against the Packers' Randall Cobb, who ranks second in the NFC in punt returns with a 10.2-yard average and one touchdown and fifth in kickoff returns with a 25.8-yard average.

"It's always a bad time [to face Cobb]," Toub said. "Anytime you have these kinds of losses on special teams it's going to be tough. [But] we have the guys in that room [and] I feel confident."

Perfect day: Toub told reporters that the Bears signed Olindo Mare after he was perfect on field goals during a competition with four other kickers Tuesday at Halas Hall. Mare replaces Robbie Gould, who was placed on injured reserve with a left calf injury.

"Olindo made all his kicks," Toub said. "He was 100 percent. Coming in we felt like he might be the guy. So we were happy to see how he performed. He outkicked everybody that was there."

Mare has converted 81.2 percent of his field-goal attempts (350 of 431) in 15 NFL seasons with the Dolphins (1997-2006), Saints (2007), Seahawks (2008-10) and Panthers (2011). With the Bears, he'll work with holder Adam Podlesh and long-snapper Patrick Mannelly.

"The first thing we have to do is get the operation correct with our holder and snapper," Toub said. "We have to get that straightened out. Fortunately, we have two experienced veterans there, so they really have got that thing ironed out already. We've got to that in the right direction.

"Now we just have to figure out exactly what is his range and that's going to be a game time [decision] when we get out there and see what the weather's like and see how the field conditions are. All those factors comes into play and then we'll tell Lovie [Smith] where we can kick from, what's the optimal distance. Hopefully it's close to where Robbie's was."

Perfect comeback: One day after taking a jab from Packers tight end Jermichael Finley, Bears star middle linebacker Brian Urlacher responded with a metaphorical knockout punch.

After Finley had suggested that the Bears defense was probably better off without the injured Urlacher because he's at the end of his career and has slowed down, the eight-time Pro Bowler responded Thursday during an interview on SiriusXM Radio.

"A couple years ago I think he tore his ACL and the Packers were actually better without him," Urlacher said. "They won the Super Bowl. I hope we can duplicate that as well because it won't hurt my feelings if we go on and win the Super Bowl without me like they did without him."

Playing takeaway: The Bears generated 28 takeaways in winning seven of their first eight games this season, but have since produced only seven takeaways in losing four of their last five contests.

"We're continuing to play hard, but sometimes they don't come, simple as that," Smith said. "You go through spells where they just don't happen. You just have to stay in the game and keep playing. Eventually they'll come."