The importance of Sunday's must-win game in Detroit is not lost on quarterback Jay Cutler, who knows that he must perform at a high level to help the Bears make the playoffs.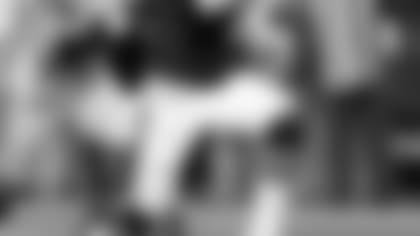 In eight career starts against Detroit, Jay Cutler has tallied 1,565 yards and 11 touchdowns to go with a 100.9 passer rating.
After routing the Cardinals 28-13 last Sunday in Arizona, the Bears (9-6) can earn a wildcard berth with a win over the Lions coupled with a Vikings loss to the Packers.
"This is a big game," Cutler said Wednesday. "Last week was a big game. We've got to win. There is nothing else to be said about it, and quarterback play, these are the games you've got to have."
While the Bears rushed for 152 yards and allowed only one sack last Sunday against the Cardinals, Cutler started off shaky, completing just one of his first 11 passes.
He eventually heated up during a two-minute drill late in the first half, connecting on 5-of-5 passes for 76 yards, including an 11-yard touchdown to Brandon Marshall that gave the Bears a 21-6 lead.
"It wasn't that we were doing anything different or they were doing anything different," Cutler said. "We were just making plays, running good routes, guys were snagging the ball for me. The line played well all day. I think we just have to have a sense of urgency on every play and just get up there and like the call and go out there and execute it."
While Marshall has established single-season Bears receiving records with 113 catches and 1,466 yards, the offense has struggled to develop consistency. After generating 19 touchdowns in the first eight games of the season, the unit has mustered only 11 TDs in the last seven contests.
Despite the offense's decline, Cutler remains confident heading into Sunday's game in Detroit.
"I think we are going to be fine," he said. "I think we'll get off to a good start this week. We've got to run the ball. We've got to take care of the ball. We can't give their offense anything easy because they move the ball up and down the field pretty well.
"It's just like any other game: red zone, third down, ball security; if we do all of those things and hopefully get the running game going a little bit, we should be fine."
Since 2008, the Bears have won eight of nine meetings with the Lions. Their only loss during that span came last year on Monday Night Football when they dropped a 24-13 decision at Ford Field.
In eight career starts against Detroit, Cutler has completed 140 of 217 passes for 1,565 yards with 11 touchdowns, only one interception and a 100.9 passer rating.
Running back Matt Forte has also excelled against the Lions, rushing for 774 yards and four touchdowns on 157 carries in nine games. Forte exited last Sunday's game with an ankle injury and did not practice Wednesday, but the Bears are hopeful that he will play in Detroit.
"He didn't finish the game, so that's a concern, but his ankle is looking pretty good," said coach Lovie Smith. "We always play guys when they're healthy and ready to go and hopefully that's the case with Matt. He's pretty encouraged by what's happening."
"He seems to be walking around OK," Cutler added. "I think he's optimistic that he'll play. I don't know. We've got Kahlil [Bell] back, so I'm sure he'll be getting a lot of reps this week and if we can have Matt, we can have Matt. If we can't, other guys have to step up."
The Lions (4-11) have lost seven straight games, allowing at least 24 points in each of those defeats. But that doesn't mean Detroit isn't motivated to end the Bears' playoff hopes.
"They're rivals and with the situation we're in and they're in, that's what they want to do coming into a new year and finishing the season on a good note," said center Roberto Garza. "For us, we can't let that happen. We're not going to let that happen. We're playing at their place against a good defense. We have to be ready for the challenge and we're looking forward to it."
"It's safe to say [the Lions] are disappointed in their season, so they would love nothing more than to make us disappointed for the rest of the year," Cutler said. "[But] we can't worry about it. We can't worry about anything else besides our game plan and taking care of business."