BOURBONNAIS, Ill. — With three weeks of training camp in the books, Jay Cutler is pleased with the progress the Bears offense has made but knows the unit still has a long way to go.
"We're moving along," Cutler said Tuesday after the Bears conducted their final camp practice open to the public. "I don't think I can pinpoint exactly where we're at, but we're definitely getting better each and every day. There are ups and downs and there are positives and negatives. We're trying to look at the negatives and try to fix those as quickly as possible and continue to find more and more positives each and every day."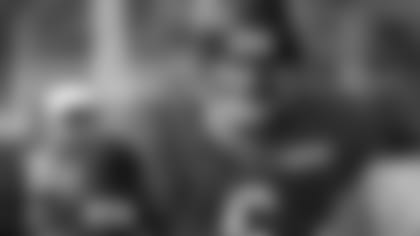 Jay Cutler has played behind rookie right guard Kyle Long this week in practice.
Cutler has connected regularly with big receiving targets such as Brandon Marshall, Alshon Jeffery and Martellus Bennett in practice. But the veteran quarterback has also had quite a few passes deflected at the line of scrimmage and intercepted.
The negative plays are partly the result of the growing pains that come with learning a new offense, facing an established and talented ball-hawking defense, and not game-planning in practice.
"I have a sense for when [Cutler] gets frustrated and when it's not going the way he wants it to go," said coach Marc Trestman. "But his demeanor's been outstanding.
"He's experienced a lot of failure in this camp because of what he's seeing every day and all the different things we're throwing at him, but he's had a lot of success too. He's had a very efficient camp for most of it. I know we can always accentuate what we've seen out here [in practice], but what we've seen out here is not the games. It's not the real games.
"We've got to keep that perspective and we've got to look at the big picture right now and we'll see what happens as we move down the road. But he's on top of it. He's doing everything he can to get better, and we're running [random] plays right now. As we move forward we'll be running the plays that best suit the fronts and the coverages that we're going to see."
When that happens, Cutler is convinced that the offense will experience more success.
"We're just trying to rep plays and see what they look like," he said. "We're not really worried about the defense that we're going against or trying to pair up a certain play with the defense. There are some plays out there that we're running that normally you wouldn't want to run against that coverage or that defense or that front. Some of the plays look good, some of the plays not so good. It's just dealing with those and coming back and bouncing back for the next play."
Cutler likes Trestman's offense, which is designed to limit sacks by focusing on pass protection and getting the ball out of the quarterback's hands quickly. In Trestman's first season as coach of the CFL's Montreal Alouettes in 2008, he reduced the team's sacks from 68 the previous season to 22.
"You get rid of the ball," said Cutler, who has been sacked 148 times in 56 games with the Bears. "You're not back there going through reads. It's quick. It's just quarterback-friendly."
Cutler has been playing behind an offensive line that has shuffled players in and out of the lineup in an ongoing effort to find the best five starters. This week a pair of rookies joined the right side of the No. 1 unit with Kyle Long inserted at guard and Jordan Mills at tackle.
The two rookies, who are working closely with offensive coordinator/line coach Aaron Kromer, are expected to start Thursday night's preseason game against the San Diego Chargers at Soldier Field.
"We're very confident in the five guys that we have right now," Cutler said. "Obviously Thursday is going to be an indicator of where we go in that direction. But I think 'Krome' is doing a heck of a job with those guys. He's one of the best offensive coaches that I've been around. He's a great teacher and he's doing the best work he can possibly do with those guys."