The Bears offense doesn't have to cure all of its ills Sunday in Arizona; the unit simply has to play well enough to help the team record a much-needed victory over the Cardinals.
"I told the guys we can't feel sorry for ourselves offensively," said quarterback Jay Cutler. "We just have to do whatever we have to do to win this game. You're not going to fix every problem in one week, so we just have to focus on ourselves and what we have to do internally offensively to win one game, and we'll move on from there."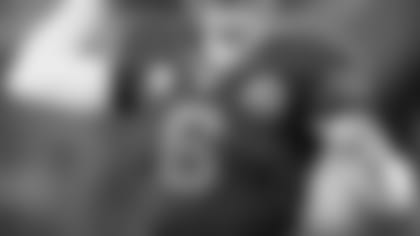 Jay Cutler and the Bears are in a must-win situation as they prepare to visit Arizona.
Scoring more touchdowns would be a great place to start. After averaging 29.5 points while winning seven of their first eight games, the Bears have averaged only 14.2 points in losing five of six.
In last Sunday's 21-13 defeat to the Packers at Soldier Field, the Bears mustered just 190 total yards and one touchdown, went 0-of-9 on third down and failed to get into the end zone on three straight plays from the Green Bay 1 before settling for a field goal.
Asked what he thought about perennial Pro Bowl linebackers Brian Urlacher and Lance Briggs criticizing Bears fans for booing, Cutler said: "Offensively, I can only talk about us and we haven't given the fans a lot to cheer about here."
Although the Cardinals had lost nine straight games before stomping Detroit 38-10 last Sunday in Arizona, their defense has been steady throughout the season, leading the NFL in interceptions (22) and opponent passer rating (68.0). The Cardinals picked off three passes against the Lions, returning two for touchdowns and one to the three-yard line, setting up another TD.
"They show a lot of different looks," Cutler said. "They're not afraid to blitz. They have a lot of talented guys in the secondary, linebackers, and even up front, so it's challenging. They create turnovers. They're really good on third down and they're good in the red zone, so we have our hands full."
Sunday's marquee match-up at University of Phoenix Stadium will pit Bears receiver Brandon Marshall against Cardinals cornerback Patrick Peterson. Marshall leads the NFL with a career-high and franchise-record 107 receptions for 1,398 yards and 10 touchdowns, while Peterson is tied for second in the league with seven interceptions and tops the NFL with five fumble recoveries.
"The kid is talented," Marshall said. "I got a text message from my college coach that also coached at LSU when he was there. He said this is the best athlete you're going to go against this year, so I've got my hands full. I know he'll follow me around a little bit.
"I heard some comments he made a week or two ago about how he's playing the best at that position, and I agree with him. Watching film now, he really is backing it up. Unfortunately, their record doesn't show that; that kind of puts a damper on his play right now. But he's playing at a high level and this guy's going to be another Pro Bowler."
If the Bears offense doesn't improve in the final two weeks of the season, there could be major offseason changes. But Cutler insisted that players are focusing solely on trying to beat the Cardinals.
"I think that's a conversation for after the season," Cutler said. "We're in the middle of the season right now and there's enough on our plate to worry about. After the season that'd be a conversation.
"We just have to get to nine wins. We can't go anywhere unless we get to nine and then if we get to nine we can talk about 10. But right now eight isn't good enough and nine might not be good enough either."
Even after losing five of six to fall to 8-6, the Bears can still earn a wildcard berth by closing the season with road wins over the Cardinals and Lions coupled with help from other teams.
"Winning is contagious and unfortunately losing is too," Marshall said. "And it's all about a mindset. I look back on teams I've been on the past six years and I've never been to the playoffs.
"So as someone sitting back and watching and observing, I understand what losing is and I understand what winning is, and this is a winning team. This is a winning organization. That's what really frustrates me and other guys; when you look at what has been going on these past few weeks, it's that this is a winning team.
"You have high character guys. You have guys that fight. You have guys that respond to adversity the right way. You have guys that work hard. We're close and we have the guys; we have the guys upstairs and in the locker room to really get it done. We just need to do it."
Roster move: The Bears on Wednesday signed guard Reggie Stephens to the practice squad. The 6-3, 325-pounder was selected by the Bengals in the seventh round of the 2010 draft. He spent part of last offseason with the Bears and has also been with the Bills, but has not appeared in a regular season game.