FOXBORO, Mass. – The Bears offense showed marked improvement in its second practice against the Patriots Tuesday, led by receivers Alshon Jeffery, Kevin White and Joshua Bellamy.
Jeffery reached high over cornerback Logan Ryan to pluck a pass out of the air in a 1-on-1 drill. White caught touchdown passes on back-to-back plays from Jay Cutler on a back-shoulder throw and a frozen rope over the middle. And Bellamy made several impressive catches, highlighted by a long reception from backup quarterback Brian Hoyer.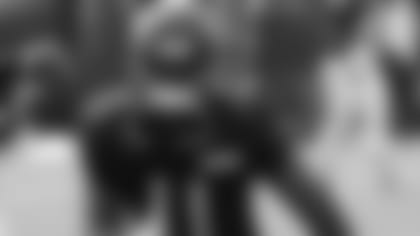 Wide receiver Josh Bellamy running a route at practice Tuesday.


When the Bears selected White with the seventh pick in the 2015 draft, they planned to pair him with Jeffery to form a dynamic receiving tandem. While that never happened last year because of injuries, the two are beginning to show flashes of what the team envisioned a year ago.
"They're both very, very talented players," said coach John Fox. "We're trying to get them in condition for a regular football season. [The more they're] out here practicing where they get that timing with the quarterback and the rest of their offensive teammates, the better."
After sitting out his entire rookie season with a leg injury, White continues to make up for lost time on the practice field.
"I think there's some rust," Fox said. "Anytime someone doesn't practice and play, we have to bring the WD40 out and spray the rust off. I'm seeing progress with him getting back into football condition."
Fight club: There were no fights like Monday, but Patriots starting center Bryan Stork was ejected from practice after he threw a punch and then shoved Bears linebacker John Timu, who wisely did not respond. There were a couple other minor skirmishes, but nothing like the brawl that erupted Monday that began with a tussle between Jeffery and New England cornerback Malcolm Butler.
"These guys are competing, fighting for jobs, fighting for their lives out here and this is just kind of how it goes," said Bears linebacker Jerrell Freeman. "You try and keep it to a minimum and be professionals about it, but it's going to get a little heated out here."
Bears safety Harold Jones-Quartey knocked Patriots receiver Julian Edelman to the ground after one play and was removed from the field by an angry defensive coordinator Vic Fangio.
Backup Brady: Tom Brady, who is suspended for the first four games of the regular season, worked with New England's No. 2 offense Tuesday behind Jimmy Garoppolo. That gave the Bears' second-team defense a rare opportunity to compete against a future Hall of Famer.
Said Fox: "When you come and work against a team like the Patriots that has had all the success the Patriots have had—Tom being a big part of that, I'm sure most people would say—it's always good to practice against that because there's a certain precision, particularly in the passing game, they've mastered pretty well."
Facing an offense that can do so many things well should help the Bears defense moving forward.
"For us as players you want to go up against somebody different and especially a team like the Patriots," Freeman said. "It's a different team, their style of offense. They're a chameleon; they can be anything they want to be at any point in time and it's good to have that uncertainty. It's real good to go against them."
Just like their players, Bears coaches also benefit from practicing with another NFL team.
"I think it's kind of neat to see how other people do it," Fox said. "We're a little bit paranoid in our profession, so I think from that standpoint to see how other people do it, teach it, go about it, whether it's setting up a practice or how they might do their conditioning, it keeps it fresh."
On the sideline: Bears inside linebacker Danny Trevathan was given a veteran's day off Tuesday. Tight end Zach Miller, who is recovering from a concussion, did not practice because he had a doctor's appointment. "He's still coming off the concussion protocol," Fox said. "We keep evaluating, keep looking and are trying to make sure we cure all symptoms."