Although the defense's collapse late in Sunday's 23-17 overtime loss to the Seattle Seahawks was troubling, the Bears offense provided some reasons for optimism moving forward.
While quarterback Jay Cutler and receiver Brandon Marshall once again both excelled, a solid performance by a revamped offensive line may have been the biggest positive.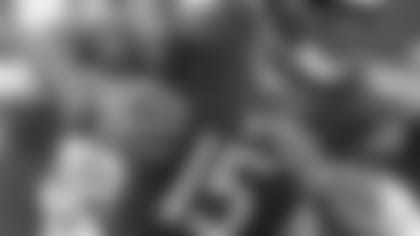 Brandon Marshall ranks second among NFL receivers in receptions and yards.
Starting a different combination up front for the third straight game, the Bears allowed only one sack, did not commit a turnover for the second time this season and compiled 358 total yards.

The line Sunday consisted of J'Marcus Webb at left tackle, Edwin Williams at left guard, Roberto Garza at center, Gabe Carimi at right guard and Jonathan Scott at right tackle.

"The group that we had on the football field hung in there," said coach Lovie Smith. "I know we had great protection throughout and opened up holes for the run."

Cutler benefited from the protection, completing 17 of 26 passes for 233 yards with two touchdowns and a 119.6 passer rating. His numbers would have been even better had receiver Earl Bennett not dropped a potential 62-yard TD pass in the second quarter.

Cutler also scrambled for 27 yards on four carries. In picking up a first down with an eight-yard run on third-and-seven in the third period, he faked out one defender and spun away from another.

"Jay Cutler was outstanding," Smith said. "Especially this time of the year a lot of it goes on the quarterback and he kept plays alive and was mobile in the pocket. It was just a great game by him."

The same could be said for Marshall, who caught 10 passes for 165 yards, the most in a game by a Bears receiver since Marty Booker had 198 yards in a 2002 win over the Vikings.

Marshall currently ranks second in the NFL with 91 receptions behind the Patriots' Wes Welker (92) and second with 1,182 yards behind the Lions' Calvin Johnson (1,428).

"Brandon Marshall has been pretty much Brandon Marshall every game he's played," Smith said. "Teams know we're going to throw it to him and haven't been able to stop it."

Marshall has continued to perform at an All-Pro level even as injuries have depleted the Bears' receiving corps. Alshon Jeffery (knee) and Devin Hester (concussion) both sat out Sunday's loss, while Bennett exited after sustaining a concussion.

With Bennett ranking second on the team among wide receivers with only 23 receptions, the Bears are still hoping for a second pass catcher to step up.

"We have been saying that for a while," Smith said. "Someone needs to, and I think the guys will say that. We still have time. Hopefully we'll get Alshon Jeffery back. He has wanted to move into that role when he has been healthy. Hopefully we'll get Devin Hester back in the mix."

With all the injuries, Marshall mentioned the possibility of the Bears signing free agent Mike Sims-Walker, his former teammate at Central Florida who Marshall called "my best friend, my brother."

But Smith indicated that the Bears have no plans to bring a receiver in off the street.

"We're going to go with the guys we have right now," Smith said. "We're going to get some guys back this week and we'll be fine. I've got a lot of old buddies and stuff too. But I think Brandon feels pretty good about the guys that we have here that he's playing with."