The Bears offense didn't exactly get off to the quick start that coach Lovie Smith was hoping for in Sunday's 51-20 rout of the Titans, but the unit eventually got on track and finished strong.
The Bears' first three possessions of the game resulted in two punts and a safety, and included three penalties and one sack with only one first down and one completed pass.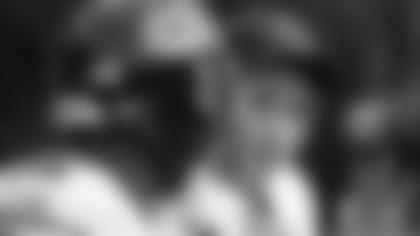 Jay Cutler and Brandon Marshall connected for three touchdown passes in Sunday's 51-20 win.
"We didn't start as well as we would like offensively during that game," coach Lovie Smith said Monday. "But I definitely think as the game went along we were playing good ball and had a good rhythm going towards the end of the game."

The Bears' fourth possession began at the Tennessee 8 after Devin Hester had returned a punt 44 yards. It took the offense only one play to get in the end zone as Matt Forte powered in for the first of three Chicago touchdowns in a 2:07 span late in the first quarter.

Brian Urlacher returned an interception 46 yards for a TD and Jay Cutler threw a 13-yard touchdown pass to Brandon Marshall after the defense had generated its third takeaway, enabling the Bears to take a 28-2 lead and set a franchise record for points in the first quarter.

Cutler finished completing 19 of 26 passes for 229 yards with three TDs, no interceptions and a 138.1 passer rating that was the fourth best of his seven-year NFL career. Forte rushed for 103 yards on 12 carries, while Marshall had nine receptions for 122 yards and a career-high three TDs.

"Right now we're talking an awful lot about our defense," Smith said. "But before this season is over, hopefully this week, it's going to shift where we're going to be talking an awful lot about the weapons that we have and offensively plays that we're making."

Busting loose: Prior to Sunday, Hester's longest punt return this season had been 23 yards in the opener against the Colts. On his 44-yarder in Tennessee, he made a nice cut and weaved up the middle before being dragged down at the 8 by reserve running back Jamie Harper.

"It was very important for Devin to get off and the rest of the group," Smith said. "We've been close a couple times. We felt like we've had a couple opportunities where we could have broken a big one, but it's just a matter of time with Devin Hester before we would be able to do it."

The NFL's all-time record holder with 17 kick return TDs, Hester doesn't have to touch the ball to impact the game. The Bears had excellent field position last Sunday when the Carolina Panthers opted to keep the ball out of Hester's hands at all costs.

In Tennessee, Titans punt protector Jordan Babineaux dashed down field in coverage, allowing Sherrick McManis to block a punt that Corey Wootton returned five yards for a touchdown.

"Just having Devin back there does so much," Smith said. "Last week field position we were able to get. Guys are worried about getting down there and covering as opposed to protecting. All of that comes into play when you have the greatest returner of all time back there."

Not happy: Titans owner Bud Adams was livid after seeing the Bears destroy his team in Nashville.

"In my 50 years of owning an NFL franchise, I am at a loss to recall a regular-season home game that was such a disappointment for myself and fans of the Titans. "Adams told the Tennessean. "We were grossly outcoached and outplayed from start to finish."

The 89-year-old told the newspaper that he was so upset by his team's performance that he left LP Field in the third quarter to fly home to Houston.

On the mend: Rookie receiver Alshon Jeffery continues to recover from a hand injury that has forced him to miss three games, but his status for Sunday night's contest against the Texans is not known.

"Alshon Jeffery continues to get better," Smith said. "Don't know what his status will be this week, but we're getting closer as each day goes by."