On the Bears' first play from scrimmage last Sunday against the Vikings, Jay Cutler fell to the ground and was sacked after center Roberto Garza stepped on the quarterback's foot.
Unfortunately, it wasn't the only time the offense stumbled out of the starting gate, something that coordinator Mike Tice is determined to rectify Sunday when the Bears host the Seahawks.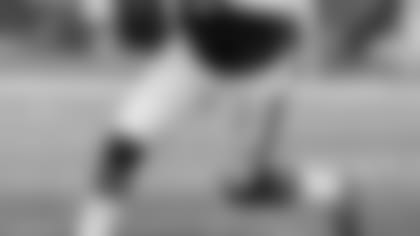 Jay Cutler looks for a receiver during last Sunday's win over the Vikings.
The offense has allowed sacks on its first play in four games this season and committed turnovers on its opening possession in three contests. And that doesn't include the pick-six Cutler threw on the first play of the Bears' second drive in the season opener against the Colts.
"I think we're going to probably make sure the rest of the way out we're careful early in the games," Tice said. "We've had some bad starts. We had a bad start the other day.
"We don't want to come out and shoot ourselves in the foot early. So we can manage some of those calls and make sure we don't put ourselves in harm's way with some of the earlier calls."
Cutler hopes to have immediate success Sunday against the Seahawks, but knows that the offense will have to make some adjustments behind a line that's been revamped due to injuries.
"I have to get rid of the ball, coach Tice has got to dial up some good plays and keep those guys protected, and throw a lot of different looks at the defensive line and the secondary," Cutler said.
"We have to get [Brandon Marshall] going and hopefully we get Matt Forte going a little bit, so it's collective group. But I drive the thing, so I have to get off to a fast start."
Employing maximum protection at times in last Sunday's 28-10 win over the Vikings, Cutler completed 23 of 31 passes for 188 yards with one touchdown, one interception and an 86.5 passer rating. His favorite target was Marshall, who had 12 receptions for 92 yards.
With all the changes up front, the Bears could utilize a similar strategy against the Seahawks.
"You have to do what you have to do," Cutler said. "First and foremost you have to protect the quarterback. It's hard throwing out of a phone booth all the time. It makes life difficult when you're getting hit all the time and you should be protected. So if we've got to have a few more guys in helping out, then that's what we have to do.
"We've got guys who can get open, Brandon and Earl [Bennett] and some of those guys, so they're going to have to do their part. If we only have two, three or four, they have to make it happen."
The Bears will play Sunday without two of their top four wide receivers: Rookie Alshon Jeffery is sidelined following arthroscopic knee surgery and Devin Hester has been ruled out of the game after sustaining a concussion last Sunday against the Vikings.
Marshall no doubt will continue to be targeted as much as he has been throughout the season, but the Bears need other pass catchers to step up like they did versus Minnesota.
In that game, tight end Matt Spaeth made a diving 13-yard touchdown reception, tight end Kellen Davis set up a TD with a 15-yard catch to the Minnesota 1, and receiver Earl Bennett caught four passes for 45 yards, including an 11-yarder on third-and-six that sustained a touchdown drive.
"There is a sense of urgency to get other guys the ball," Marshall said. "I was really excited about Jay spreading it around last week. He probably got seven or eight different guys involved, just getting a touch.
"It doesn't matter if it's one or two catches, as long as other guys are involved it makes it easier on our whole team. We're going to lean on Earl a lot this week. We're going to lean on some of the other guys that are stepping up and playing this week to make some plays."