After struggling to move the ball and score points in back-to-back losses to the Texans and 49ers, the Bears offense will attempt to get back on track Sunday against the Vikings.
The unit mustered only one touchdown in those two defeats after producing four TDs in a 51-20 rout of the Titans Nov. 4. The offense has scored five and four touchdowns in wins this season, while being held to one or no TDs in five of eight other games.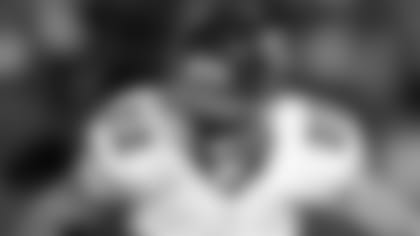 Matt Forte has rushed for 102 yards on 37 carries in back-to-back losses to the Texans and 49ers.
"What we're not seeing is that consistency in performance," said offensive coordinator Mike Tice. "It's too much like the teeth of a saw; it's up and down. What you need is that consistency.

"You just look for that consistency level from a player each week so you know what you have and you can work around that. When that consistency is not there, that plane, there might be a little fluctuation, when it's up and down that makes it tough."

The offense produced 501 total yards in a win over the Jaguars, the most by the Bears in a game since 1989. But they also were held to 143 yards by the 49ers, their lowest output since 2010, while yielding six sacks and crossing the 50-yard line only twice on 11 possessions.

"The concerns offensively-the lack of rhythm, the lack of fast starts, the lack of success on first down-are still haunting us," Tice said.

The Bears are averaging a league-worst 4.09 yards on first down, routinely resulting in predictable passing situations on second-and-long and third-and-long. After averaging at least 4.0 yards per carry in each of the first eight games of the season, Matt Forte averaged 2.4 yards against the Texans and 3.0 versus the 49ers with a long run of only eight yards in both games.

"We have to establish the running game," said quarterback Jay Cutler, who sat out the loss to the 49ers after suffering a concussion against the Texans. "I think you build from there. We've got to get an identity offensively of who we are and what plays we feel comfortable running."

The Bears are hoping that Cutler will be able to start Sunday against the Vikings. He practiced on a limited basis Thursday and Friday, but still must be cleared by an independent neurologist.

Veteran backup Jason Campbell struggled in his first start of the season in San Francisco, but he didn't receive much help from an offensive line that was overwhelmed by the 49ers pass rush.

"We're going to have to help them," Cutler said. "We're going to have to do some stuff protection-wise; chip, slant some guys, get the backs involved, the tight ends, be smart with our play-calling and try to limit second-and-long and third-and-long. There are a lot of things to do. But ultimately there are going to be some times where we are going to have to let those five block, and they're going to have to do their job as well.

"The way they played against the 49ers, we're not going to be successful against anybody playing like that. But I don't think that is who they are. I think they are better than that."

Personnel-wise, the line will not remain the same this week. With Chilo Rachal being placed on the reserve/non-injury list after leaving the team, it appears that veteran Chris Spencer will reclaim the starting left guard position he lost to Rachal following a Week 2 loss to the Packers.

Veteran Jonathan Scott told reporters that he took the majority of first-team reps at right tackle in practice Thursday, though he has not yet been informed that he will replace Gabe Carimi.

Scott, who has started 30 of 65 games played in six NFL seasons, has been utilized as a blocking tight end the past few weeks.

"With the limited reps he's gotten, he's done a good job," Smith said. "We brought him in here in case he would have to play. What we've asked him to do he has done a good job."