Making up for the loss of star middle linebacker Brian Urlacher isn't only on the Bears defense. Players on the offensive side of the ball are just as determined to raise their level of play.
After scoring 51 points in a blowout win over the Titans in Tennessee Nov. 4, the Bears have mustered a total of 58 points in losing three of four, an average of just 14.5 points per game.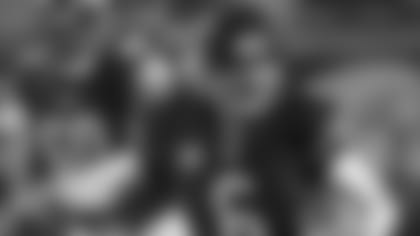 Bears quarterback Jay Cutler hopes to help the offense score more points Sunday in Minnesota.
"We've got to find a way," said quarterback Jay Cutler. "We've got to score more points. We've got to be more efficient. Third down we've been getting better. First down we have been getting better. When we get in the red zone, we've done a good job. We've just got to get more points."

Tied with the Packers (8-4) for first place in the NFC North, the Bears (8-4) close the season with three of four games against division opponents beginning Sunday in Minnesota.

"This is when you want to start peaking," said receiver Brandon Marshall. "Whatever we've been averaging whether it's points, yards, time of possession, at this time of year you want to take it up a notch. We definitely want to score more points. It's been a mission for us all year.

"Sometimes it's been a struggle, so hopefully we get it done because this is the perfect time to do it heading into the playoffs."

Earl out: Receiver Earl Bennett did not practice Thursday and has been ruled out of Sunday's game with a concussion he suffered in last weekend's overtime loss to the Seahawks.

There was good news on the injury front at the receiver position, however, as Alshon Jeffery (knee) and Devin Hester (concussion) practiced on a limited basis.

Jeffery, who is rebounding from arthroscopic knee surgery, could return to the lineup after missing six of the last seven games, the first five of which he sat out with a hand injury.

"We're excited to have him back, but I want to temper that by we haven't had him for any length of time this year to get him really in a groove," said offensive coordinator Mike Tice.

"Certainly he's shown in the games he has played that he can be a talent for us and certainly complement Brandon, so that really helps us because when they try to key on Brandon we really have two go-to guys on the field at the same time. We're excited just to see how the week of practice goes and hopefully there are no setbacks."

Mobile QB: With the offensive line playing at a higher level, the Bears allowed only one sack in each of their last two games. But Cutler deserves some of the credit for that.

"He has a lot to do with it; his mobility and what he does in the pocket," said Marshall, Cutler's longtime teammate. "There's no quarterback in the league that has a minute to sit back there.

"There are a lot of quarterbacks that are making plays with their feet and just moving in the pocket. Jay is one of the best at doing that. He's creating a lot of opportunities down the field for us."

In the trenches: Tice was pleased with how the run blocking improved against the Seahawks. After Matt Forte and Michael Bush combined to rush for just 29 yards on 12 carries in the first half, they gained 76 yards on 16 attempts in the second half.

"It was the first game I felt good about the pulling stuff," Tice said. "We got some pulling going. Getting the pulling stuff going against 3-4 schemes is tough.

"We had more guys on their blocks [in the second half] and Matt was able to use his speed and hit some seams. We were pulling guys and the fullback was blocking well too."