When asked this week why the Bears defense had so much success in last season's 27-20 road win over the Green Bay Packers, linebacker Lance Briggs didn't hesitate.
"Shea [McClellin] took out Aaron Rodgers," Briggs said.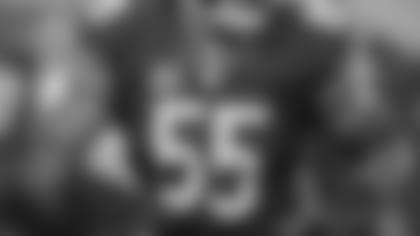 Lance Briggs will lead the Bears against quarterback Aaron Rodgers and the Packers Sunday night at Lambeau Field.
Unfortunately for the Bears, no explanation probably has ever been more accurate. Rodgers, the Packers' star quarterback, has won the last eight games he's started and finished against the Bears. Chicago's only victory over Green Bay since 2010 came last season when Rodgers broke his collarbone on the Packers' first possession when he was sacked by McClellin.
Preparing for Sunday night's NFC North clash at Lambeau Field, the Bears aren't counting on a fluke injury to sideline Rodgers. Instead, they're determined to do a better job of containing him.
"We have to challenge the throws, win the contested-throwing battles, and we need to get more pressure on him and get off the field on third down," said defensive coordinator Mel Tucker.
Rodgers has excelled against the Bears since replacing Brett Favre as Green Bay's quarterback in 2008. In compiling an 11-3 record as a starter, Rodgers has completed 292 of 428 passes for 3,377 yards with 25 touchdowns, 10 interceptions and a 101.5 passer rating.
"He's just fundamentally sound," Briggs said. "He's very sound and he knows what he can take advantage of and who he can take advantage of on the field. He knows where his windows are going to be and he's not afraid at all to put the ball [in tight spots].
"I've seen him throw passes to a well-covered guy and he throws it where only that guy can catch the ball. We turn the tape on evaluation-wise and our coaches are like, 'Well, shoot, you couldn't put yourself [in position] any better than that. There's no way he can make that throw.'"
Earlier this season, Rodgers led the Packers to a 38-17 win over the Bears at Soldier Field, passing for 302 yards and four TDs with a 151.2 passer rating that was the second highest of his career.
The Bears were actually doing a fairly good job against Rodgers in a winner-take-all showdown in last year's season finale at Soldier Field. But a 28-20 lead early in the fourth quarter turned into a gut-wrenching 33-28 loss after Rodgers engineered two touchdown drives, capped by a 48-yard TD pass to Reggie Cobb on fourth-and-eight with just :38 remaining.
"You never count him out," Briggs said. "You can play good defense the whole game. I've played good defense against him for 58 minutes out of the game and the last minute he throws a bomb and they win the game. You have to be on your toes for the whole 60 [minutes]."
One reason for the Bears to be optimistic is that defensive end Jared Allen will play Sunday night after missing the Week 4 loss to the Packers while recovering from pneumonia. Allen has recorded 16 sacks in 13 career games against Green Bay.
"You've just got to know Aaron," Allen said. "You've got to study him and know what he likes to do. He will give you shots to get to him because he has the ability to go down the field at any given time, and he'll take those shots on you. So you've got to keep rushing.
"You can't get tired of three-step [drop], three-step, ball out, ball out, ball out, ball out, ball out, and then all of a sudden he sits back there for five seconds, pats the ball and really torches you.
"So it's just a game you've got to play of continually trying to beat that guy in front of you, whether it's flashing in front of Aaron or disrupting him if we can. If you let him sit back there, pat the ball and get it out, it'll be a long day."