With the Packers clinching the NFC North title Sunday at Soldier Field, the playoff picture got a whole lot murkier for the Bears, who are now currently on the outside looking in.
When breaking ties to determine wildcard berths, the division tiebreakers are first applied. The Vikings (8-6) own the tiebreaker over the Bears (8-6) by virtue of a better division record and are assured of winning the tiebreaker due to a better mark against common opponents.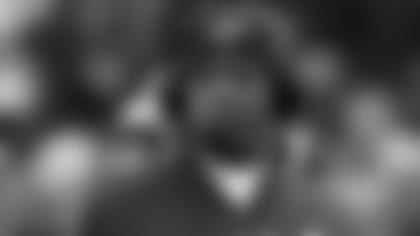 Lovie Smith and the Bears will face the Cardinals in Arizona next Sunday.
The Redskins (8-6), Cowboys (8-6) and Giants (8-6) are 1-2-3 in the NFC East. The Vikings hold the tiebreaker over the Cowboys and therefore currently would earn the final playoff spot.
Minnesota closes the season at Houston and by hosting the Packers. The Bears finish with back-to-back road games in Arizona and Detroit.
"It's never over until that last 16th game is over," said quarterback Jay Cutler. "That's how this locker room feels. We have to find a way to win these next two games and see what happens."
"There's still life and that's all that matters," said center Roberto Garza. "This is a tough loss and a tough situation to be in, but anything can happen. We've got two games that have become very important. We have to go out there and win those two games and see what happens."
Bad streak: The Bears have now lost six straight and eight of their last nine games to the Packers.
"It wears on me," Cutler said. "It wears on everyone. You don't want to lose to your rival year-in and year-out. Then it's not a rivalry anymore; it's a domination. We have to find a way. But that's in the past at this point. Arizona is up next and we just need to focus on them."
Off and running: Matt Forte rushed for 37 yards on six carries on the game's opening possession as the Bears advanced to the Green Bay 31 before their drive stalled.
"We had great blocking up front," said Forte, who finished with 69 yards on 20 attempts. "If I can get to the linebacker level and get out of the backfield, we can make some things happen.
"We were pushing them off the ball, running downhill on them and playing physical. We were moving the ball pretty well and the running game was pretty proficient."
After reaching the 31, Roberto Garza was penalized for a false start on third-and-one and Jay Cutler failed to connect with Alshon Jeffery, forcing the Bears to punt.
Good start: Just like Forte, the Bears defense started strong against Aaron Rodgers, who completed 2 of 6 passes for five yards while being sacked twice in the first quarter.
"We got him down," said linebacker Lance Briggs. "We condensed the pocket, didn't let him out. We were getting him down. We had a couple sacks in the first half."
Rodgers got the best of the Bears the rest of the game, repeatedly buying time in the pocket before hitting wide open receivers over the middle. He completed 23 of 36 passes for 291 yards with three touchdowns, no interceptions and a 116.8 passer rating.
The Bears defense played without middle linebacker Brian Urlacher (hamstring), cornerback Tim Jennings (shoulder), defensive tackle Henry Melton (chest), linebacker Geno Hayes (knee) and defensive end Shea McClellin (knee).
"We had a good game plan going in and we were effective for the most part," Briggs said. "If you don't get Rodgers down and you give him time, if he can scramble left and right, coverage will eventually break down."