Bears coach Marc Trestman remained optimistic that Lance Briggs will play Sunday night in Philadelphia after the veteran linebacker practiced on a limited basis Wednesday.
Briggs, who has missed the last seven games with a fractured shoulder he suffered Oct. 20 in a loss to the Redskins, worked with the No. 1 defense in practice and remains day-to-day.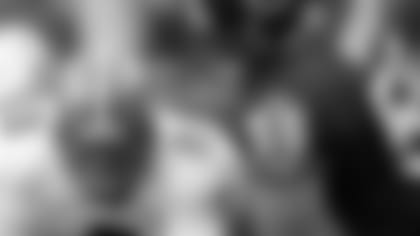 Linebacker Lance Briggs tackles Saints quarterback Drew Brees earlier this season at Soldier Field.
"Like I said to you the other day, I'm optimistic he'll play. How much? We'll see how he feels," Trestman told reporters. "I'll be able to better answer that question after Friday's practice and it may even go into Sunday. He did get some work today and I did talk to him afterwards and he said he felt pretty good, so we'll see where he is tomorrow."
Trestman acknowledged that conditioning could be a factor with Briggs, who has not played in a game in more than two months and just returned to practice last week.
"Certainly he hasn't played football in a long time," Trestman said. "Lance is a unique athlete. It would certainly be exciting to see him out on the field. How much? Who knows? But it certainly would be good for our football team to have him out there and have him playing.
"We'll see where he is at that point. I haven't talked to any trainers about it. I haven't talked to the doctors about it. We'll do what's best for him to make sure we keep him safe out there and we'll go from there."
Defensive coordinator Mel Tucker was pleased with what he saw from Briggs Wednesday in practice.
"He looks like Lance," Tucker said. "He's moving around well. He's got good pep in his step. He's excited to be back out there working with the guys. He's just very experienced and steps right in and knows what to do. He plays fast. It's good to have him back out there working a little bit."
Receiver Brandon Marshall was held out of practice Wednesday for precautionary reasons with a sore quad, but he is expected to participate in Thursday's workout.
Roster move: The Bears on Wednesday signed tackle Joe Long off the Steelers practice squad. The 6-5, 304-pounder entered the NFL in 2012 as an undrafted free agent with the Rams.
Long was signed to Pittsburgh's practice squad last November and spent the entire offseason with the Steelers. He is not related to Bears guard Kyle Long, but is the younger brother of Rams tackle Jake Long, who spent his first five NFL seasons with the Dolphins.