For Bears rookie right tackle Jordan Mills, Monday night's game in Green Bay will be more than just a grudge match between fierce NFL rivals. It will also be a family affair.
For the first time, Mills will line up against his cousin, Packers cornerback Tramon Williams. The two weren't very close while growing up in Napoleonville, La., because they are almost eight years apart. But Jordan's older brother, O'Neal, and Williams were inseparable.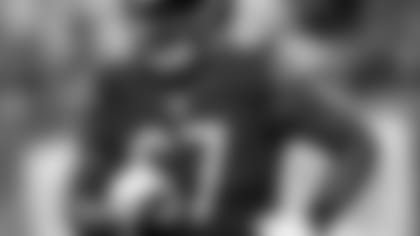 Jordan Mills will make his eighth NFL start at right tackle Monday night.
The two starred on the Assumption High School football team together and regularly hung out at each other's houses, often under the watchful eye of an impressionable grade-schooler.
"I would try to follow them around like I was one of the guys," Jordan said. "Sometimes they let me come along and sometimes they wouldn't. But I tried to follow them as much as I could."
Jordan didn't stop there. He followed Williams to Louisiana Tech and ultimately into the NFL. The Bears rookie considers his cousin a role model. Through hard work and determination, Williams earned starting cornerback positions at Louisiana Tech after arriving as a walk-on and with the Packers after entering the NFL as an undrafted free agent.
"He is a great role model," Mills said. "His story is one of the great stories. He was a walk-on at Tech, but he didn't listen to the naysayers and the people who said he couldn't [make it]. Seeing how hard he worked to get where he is, I try to [emulate] everything he does as far as being humble, grounded, keeping a level head and working on your craft."
Mills is grateful to Williams for the advice he provided leading up to this year's draft.
"He was the one person I leaned on for questions and advice, and to have him throughout my draft process was great," said Mills, who was selected by the Bears in the fifth round.
"He basically told me it's not easy. It's going to be hard. You've just got to work hard every day, listen to the veterans around you, and if a coach tells you you did something right, find a way to do it even better. Having that advice from him was great."
Mills exceeded expectations in training camp and the preseason en route to earning the starting right tackle position. He's part of a revamped offensive line that has helped the Bears average 30.4 points per game this season, second most in the NFL behind the Denver Broncos.
"I'm not going to say I'm surprised at all," Williams said. "With Chicago, if you talk to a lot of people, their line was one of the big parts that they felt needed adjustment. They got a couple of rookies who came in and seem to have solidified that spot for them. It's great to see the success that he's having. He's doing well, and I'm happy for him."
Mills plans on warmly greeting his cousin Monday night, but not until after the game.
"To go against your family is priceless, but when we get on the field I'm a Chicago Bear and he's a Packer and the family has to be [put aside]," Mills said. "I know he thinks the same way. It's going to be fun to play against him, but if I get a chance to get after him I'm going to get after him."