The Bears on Sunday released offensive lineman Matt Slauson and safety Antrel Rolle.
"We thank Matt and Antrel for the dedication and leadership they brought to our organization," Bears general manager Ryan Pace said in a statement. "Both men did everything we asked of them.
"Part of growing as a team is making difficult decisions like the ones we made today. We never take them lightly given the respect we have for everyone who has put on a Bears uniform. We wish each of them the very best as they move forward."
Slauson started all 37 games he played the last three years with the Bears. The 6-5, 320-pounder joined the team in 2013 after spending his first four NFL seasons with the Jets.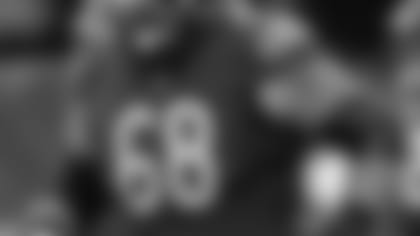 Matt Slauson started all 16 games last season, 12 at his regular left guard position and four at center.


Slauson started all 16 games last season, 12 at his regular left guard position and four at center after injuries sidelined veteran Will Montgomery and rookie Hroniss Grasu.
Slauson was presented with the Ed Block Courage Award last April after rebounding from a torn pectoral muscle that forced him to miss the final eight games of the 2014 season.
Slauson was expendable due to a slew of moves the Bears have made this offseason to bolster their interior line. They've switched Kyle Long from right tackle back to right guard, signed veteran free agents Manny Ramirez and Ted Larsen, and selected Cody Whitehair in the second round of the draft out of Kansas State.
Slauson posted a photo on his Instagram account of his empty locker and wrote: "I just want to say thank you to all the loyal Chicago Bears fans out there for their support. And also to the organization for the opportunity they gave me to play the game I love and to be a Bear. It wasn't easy cleaning out my locker, but I am thankful for the last few years wearing the blue and orange."
In Rolle's first season with the Bears last year, he was limited to seven games due to ankle and knee injuries and recorded 45 tackles. In his previous nine NFL seasons with the Cardinals and Giants, he missed just one game.
Rolle hurt his ankle in a Week 4 win over the Raiders and missed the next two games. He returned to make three straight starts before suffering a knee injury Nov. 20 in practice that forced him to sit out the final seven games.
The Bears selected two safeties on the final day of the draft Saturday, choosing Miami's Deon Bush in Round 4 and William & Mary's DeAndre Houston-Carson in Round 6. They also have two second-year safeties in Adrian Amos and Harold Jones-Quartey who gained valuable experience as rookies last season.
On Rolle's Twitter account, he wrote: "I appreciate the Chicago Bears and the organization for the opportunity. Blessed as always. Looking forward to what is next!"
The Bears on Sunday also released defensive lineman D'Anthony Smith, who appeared in two games with Chicago last season, registering two tackles.