The Bears allowed only one sack in their 28-10 win over the Vikings Nov. 25 at Soldier Field, but protecting quarterback Jay Cutler Sunday in the Metrodome figures to be a much tougher task.
"It's going to be loud," Cutler said Wednesday. "[Defensive end] Jared Allen is a little bit of a different player in that dome compared to Soldier Field. There's a lot to deal with. They're a good team. They're very similar to our defense, so it's going to be a challenge."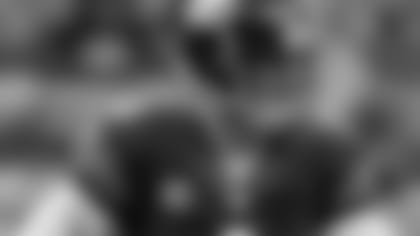 Bears quarterback Jay Cutler has been sacked only once in each of his last two starts.

Offensive coordinator Mike Tice revealed Wednesday that he expects to stick with the same starting line that closed the first Vikings game and performed well in last Sunday's overtime loss to the Seahawks.

The unit consists of J'Marcus Webb at left tackle, Edwin Williams at left guard, Roberto Garza at center, Gabe Carimi at right guard and Jonathan Scott at right tackle.

Playing in the noisy Metrodome figures to be most difficult on Webb and Scott because the two tackles are farthest away from the ball and the quarterback.

"J-Webb has played there before; hopefully he's used to it by now and is able to perform in those conditions," Cutler said. "J-Scott is new with me, so he's going to have to listen to the snap count and hear it and get a good jump.

"But it is difficult to play there. It's very loud and you have the pressure of those ends because you know they're coming. If you get in third-and-long and second-and-long and they know you are passing, that's where you get in bad situations."

Allen leads the Vikings with 8.5 sacks. He recorded 22 sacks last year, including 3.5 in the season finale against the Bears in Minnesota. But he was held without a sack while recording only one quarterback hit in the Nov. 25 game.

"We're going to do similar stuff that we did, I'm sure," Cutler said. "We threw a lot of different blocking schemes at him. We threw a fullback at him. We chipped with a tight end. We got rid of the ball quickly, ran the ball efficiently. We've just got to do those things and do more of it."

One key to containing the Vikings pass rush in the first meeting between the games was throwing short quick passes to Brandon Marshall, who had 12 receptions for 92 yards.

"We saw a lot of max protection from a lot of different looks, and the intermediate passing game is tough," Allen said. "We went back and put a clock on it and I think there were only two or three times the whole game when [Cutler] held the ball more than about two and a half seconds.

"That intermediate passing game was clutch and then they did some things like bootlegging and max protecting from different looks chipping in and out with the tight ends and running backs.

"That makes it tough, but the biggest thing is they had a lead the whole time, so there's no need for them to spread out, no need for them to create one-on-ones. Very rarely were they in third-and-longs, so when you have a lead and you're not threatened that way there's no need for you to take unprotected shots down the field."

The offensive line played well for a second straight week last Sunday against the Seahawks as the Bears yielded just one sack, did not commit a turnover and compiled 358 yards.

"They're playing better," Cutler said. "I don't know if it's because I'm yelling at them more or what's happening. Guys are playing well. We're getting rid of the ball quickly. We have good game plans going into it. Mike [Tice] is doing a great job of mixing it up and spinning the play calling and keeping teams off balance."