After trading down 10 spots in the fifth round of the draft, the Bears addressed their offensive line by selecting Louisiana Tech tackle Jordan Mills with the 163rd overall pick.
The 6-5, 316-pounder was a four-year contributor at Louisiana Tech. After playing in seven games with five starts at left guard as a freshman in 2009, Mills moved to right tackle in 2010. He started all 13 games in 2011 and all 12 contests in 2012, earning All-WAC first-team honors as a senior.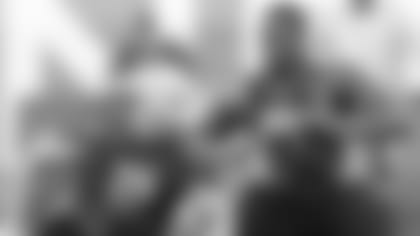 Bears first-round pick Kyle Long and fifth-round choice Jordan Mills participate in a Combine drill.
Pro Football Weekly's 2013 Draft Preview describes Mills as a "well-built, wall-off, bump-and-steer college right tackle with raw physical traits to develop in a zone-blocking scheme."
In trading down with the Falcons, the Bears obtained Atlanta's seventh-round pick (236th overall). Chicago had dealt its original seventh-round selection to the Buccaneers last summer in exchange for defensive tackle Brian Price.
Asked how familiar he is with the Bears, Mills said: "I know they've got Jay Cutler, I know they've got Devin Hester, a beast of a wide receiver in Brandon Marshall, and they just got the tackle from New Orleans, [Jermon] Bushrod."
"I will go sit and learn behind Bushrod and everybody else and soak up all the knowledge I can," Mills said.
Mills attended Assumption High School in Napoleonville, La., and Louisiana Tech, following the same path as his cousin, Tramon Williams, a starting cornerback with the Green Bay Packers.
"Yes, he is a Green Bay Packer and I'm going to see him twice a year," Mills said. "If I get back there, if somebody breaks a run or a long touchdown, if I even get close to him, that's my cousin and I love him, but it's not going to be good for him."
Mills said his older brother has always been very close to Williams.
"Him and my brother were like best friends," Mills said. "They graduated together from high school, they played football together ever since they were little. I was a little kid, always trying to follow them around and everything like that, so I would say I was very close to him when I was younger watching him and my brother be around each other.
"Every time they left I would always try to sneak off with them. Him and my brother were big influential people in my life when I was growing up."