ST. LOUIS — After committing 13 penalties for 111 yards in last weekend's overtime win over the Ravens, the Bears drew 10 more flags for 84 yards in Sunday's 42-21 loss to the Rams.
In their first nine games of the season, the Bears averaged just 4.4 penalties with a high of six.
"It's tough," said receiver Brandon Marshall. "We have to look at the film and make some adjustments. It's been like that the past two weeks and that's not us. Usually we play a pretty clean game and today, just like last week, we shot ourselves in a foot few times and weren't able to overcome penalties and stupid mistakes. We will watch film tomorrow and make the adjustments and get better. We are capable of change and we're capable of growth."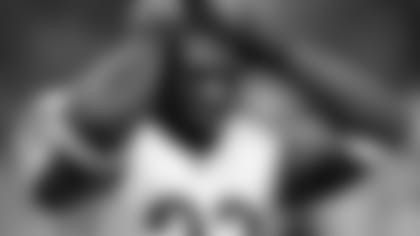 Devin Hester reacts after his 62-yard punt return TD Sunday was nullified by a holding penalty.
The Bears had three touchdowns nullified by penalties. In the second quarter, Matt Forte's 7-yard TD was erased by a flag on Earl Bennett for an illegal block in the back. Two plays later, Josh McCown's 3-yard touchdown pass to Marshall drew the Bears to within 21-14.
Early in the fourth quarter, Devin Hester's 62-yard punt return TD was wiped out by a holding penalty on Craig Steltz. The Bears followed by marching 72 yards on 12 plays capped by Michael Bush's 1-yard TD run, but not before McCown's 3-yard TD pass to Martellus Bennett was nullified by a holding penalty against Jermon Bushrod.
On one play in the second quarter, the Bears drew three penalties. The Rams declined fouls against McCown for intentional grounding and Tony Fiammetta for a facemask and accepted a 15-yard  unnecessary roughness penalty on Kyle Long.
"To have those types of penalties hurts you tremendously," said coach Marc Trestman. "The penalties had a lot to do with real estate and field goal position and starts for the offense."
Mixing it up: Long's penalty came during a second-quarter fracas involving several players from both teams after the officials failed to blow their whistles following a McCown incompletion. While some players chased the ball, others stood still, believing the play was dead.
As he was being pulled away from a pile of players by his older brother Chris, a Rams defensive end, Kyle attempted to kick a St. Louis defender but missed. Asked by a pool reporter about the incident after the game, referee Jerome Boger said that he did not see the kick.
Ground up: Bush got into the end zone on only one of five carries from the Rams' 1-yard line in Sunday's loss, including three failed attempts on one possession.
In the third quarter, Bush was dropped for a four-yard loss on fourth-and-goal from the 1. In the fourth, the Rams committed three penalties that gave the Bears a first down at the 1. Bush failed to get in following each penalty, getting stopped for no gain twice and losing two yards once.
Bush finally scored on his fifth attempt to draw the Bears to within 27-21 with 7:15 left in the fourth quarter.
"I think you've got to give some credit to the Rams," Trestman said. "They did a heck of a job. Goal-line offense is a very difficult thing to practice. We spend a lot of time walking through it, but you can't get those kinds of reps and we didn't get it done today."
News and notes: McCown set a Bears record with 36 completions, eclipsing the mark of 34 shared by Brian Griese (Sept. 30, 2007 in Detroit) and Jim Miller (Nov. 14, 1999 versus Minnesota.
Forte rushed for 77 yards, increasing his career total to 6,178 and surpassing Neal Anderson (6,166) as the Bears' second all-time leading rusher behind Walter Payton (16,726).
Marshall caught 10 passes for 117 yards and one touchdown. It was his fifth 100-yard game of the season and his 12th in two years with the Bears.
The Bears did not generate a takeaway for only the second time this season. After producing 14 takeaways in their first four games, the Bears have just eight in their last seven contests.