The Bears defense struggled mightily throughout the 2013 season, allowing the most points and rushing yards in franchise history. But players don't blame Mel Tucker.
Cornerback Charles Tillman was among those who defended the embattled first-year coordinator Monday, citing a rash of injuries that decimated the unit throughout the year.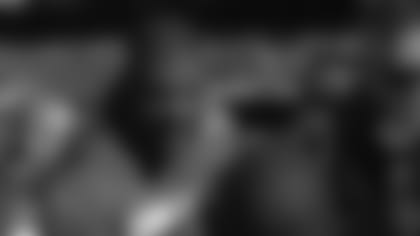 Defensive coordinator Mel Tucker talks to linebacker James Anderson.
"I thought Mel did an exceptional job," Tillman said. "We had a lot of injuries on defense. I don't think anyone got hurt on offense. I think he did a really good job despite all the injuries we had."
Tillman and linebacker Lance Briggs—arguably the defense's two best players—combined to miss 15 games in 2013 after sitting out a total of only 10 contests the previous eight years.
The Bears also lost defensive tackles Henry Melton (knee) and Nate Collins (knee), linebacker D.J. Williams (chest) and nickel back Kelvin Hayden (hamstring) to season-ending injuries.
"He didn't really get to put the defense on the field that he thought he was going to have," said Williams, who missed the final 10 games. "But I felt he did a great job. It's hard to go out there and compete with teams when you don't have your guys out there. But I think he got the guys to rally around each other and give great effort."
Defensive end Shea McClellin also doesn't think that fingers should be pointed at Tucker.
"I think he's a great coach," McClellin said. "I think he did an excellent job. Just a few things fell out of place. It was unfortunate. But overall, I think he's a great coach. I learned a lot from him."
Right direction: Even though the Bears went from 10-6 last season to 8-8 this year, receiver Brandon Marshall is convinced that the organization's arrow is pointing up.
"It's a trickle-down effect, starting with [general manager] Phil Emery," Marshall said Monday. "You look there first, the type of guy he is and the type of leadership he brings to the table. You go to coach [Marc] Trestman, the type of guy he is and the leadership he brings to the table, and then it continues down to the locker room."
An eight-year veteran who also played for the Broncos and Dolphins, Marshall thinks the Bears have the best chemistry of any team he's been with.
"This is the best locker room I've been a part of," Marshall said. "This is the best organization I've been a part of. That's the cool thing about playing for different teams-you get to experience things and when you find a good one, you're grateful for it. I'm really appreciative of being here."
Tough loss: A day later, losing Sunday's winner-take-all NFC North showdown to the Packers still stung. The Bears blew a 28-20 fourth-quarter lead in a 33-28 defeat to their arch rivals.
"It was tough," said center Roberto Garza. "It's going to take a while to get over. I felt we were really close at times. We played really good football at times. We just weren't able to finish."
The Bears scored touchdowns on their first three possessions of the second half to turn a 13-7 deficit into a 28-20 lead before the Packers rallied for two late TDs.  
"The game was a lot like our season; kind of up and down," said safety Craig Steltz. "At times we were on top and at times we were battling. We just ran out of time at the end. That's the way the season was. We just ran out of time and [suffered] a tough loss at the end of the year."
Dotted line: The Bears on Monday signed 11 players to reserve/future contracts: long-snapper Brandon Hartson, cornerbacks C.J. Wilson and Demontre Hurst, tight end Fendi Onobun, quarterback Jerrod Johnson, linebacker Lawrence Wilson, tackle Rogers Gaines, safety Sean Cattouse, receiver Terrence Toliver, defensive tackle Tracy Robertson and tight end Zach Miller.