The respect and admiration Bears players have for Lovie Smith was clear when they spoke to reporters Monday after the head coach was fired following nine seasons with the team.
"It's disappointing," said linebacker Nick Roach. "It's very sad to see him go. If you're a player in the NFL for any number of years, even if it's just a couple years, he's a guy that you would want to play for. So it's sad to see him have to leave."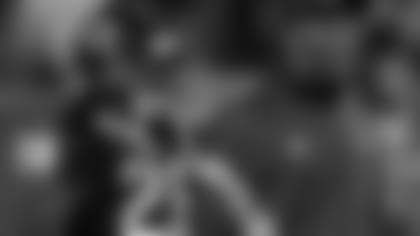 Lovie Smith shares a laugh with Bears cornerback Tim Jennings before a recent game.
"It's definitely tough, especially with a coach like Lovie," added defensive end Corey Wootton. "He's definitely a player's coach who everyone had a lot of respect for and loved playing for."
Smith led the Bears to three division titles and one NFC championship during his tenure, but the Bears failed to make the playoffs in five of six seasons since reaching the Super Bowl in 2006.
They finished 10-6 this year, but stumbled down the stretch and became the first NFL team since the 1996 Redskins to miss the playoffs following a 7-1 start.
Smith addressed his players for the final time during a brief but emotional meeting Monday morning in the George "Mugs" Halas Auditorium.
"He just said it was an honor coaching players like us, that he's got a lot of respect for us, along those lines," Wootton said. "It was definitely an emotional time, the last time that we're all going to be in the same room-coach and players."
"It's a tough situation to be in to see a great man and a great coach have to stand in front of the room and do that," said center Roberto Garza. "But this is the NFL; it happens. There are a lot of guys that respect coach Lovie Smith and it was a tough room to be in."
Although players knew that Smith had been fired, it didn't sunk in for some until he met with them.
"Everybody was just still kind of shocked a little bit to see it really just kind of happening like this," said nickel back D.J. Moore. "This is my first situation going through something like this, so I didn't know how it would be. I'm just depressed."
While players were aware of the possibility that Smith would be fired—especially after they lost five of six games down the stretch—they were hoping their coach would avoid that fate.
"There was a lot of speculation toward the end of the season when we weren't winning games that we were supposed to," Wootton said. "But we were hoping it didn't come down to this just because a lot of guys love playing for Lovie and love what he brought to the table.
"He's scrutinized a lot, but a lot of people don't realize how good of a coach he is. A lot of times the coach gets all the blame, but it comes on us playing out there and executing and getting wins."
Roach, who has been with the Bears since 2007, appreciated how Smith dealt with his players.
"He treated you with respect," Roach said. "He respected you as a person, as a man. He wasn't a condescending-type of teacher. He just wanted guys to be able to get the job done and he was able to get that done without screaming and yelling and swearing and all that.
"He was able to communicate what he wanted effectively, which I think is clear by our successes that we had. From that standpoint, it'd be hard not to say you want a coach like that."
Other Bears players took to Twitter to express their gratitude to Smith.
Cornerback Charles Tillman tweeted: "Lovie Smith is a man of God, integrity and loyalty, and that's how he coached. I had the honor to work with him for nine years. Sad day!"
Defensive tackle Matt Toeaina wrote: "Thank you Lovie for the opportunity you gave my family and me. Great coach and even better man. God bless you Lovie!"
Vikings punter Chris Kluwe also weighed in on Twitter, writing: "I'm not necessarily a Bears fan, but firing a 10-6 coach tells you just how ruthless this business can be."