Fourteen Bears players spent their day off Wednesday in downstate Washington, Ill., supporting residents of a small town just east of Peoria that was hit by a massive tornado Nov. 17.
The players—along with Bears chairman George H. McCaskey and team president and CEO Ted Phillips—spoke with students at Washington High School, visited a neighborhood to help residents clear debris caused by the tornado and stopped at an American Red Cross disaster relief facility.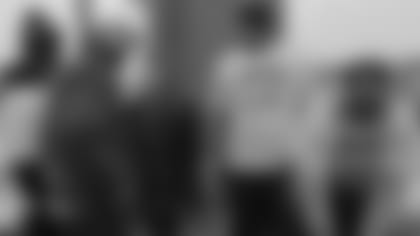 Robbie Gould (in jacket) and his teammates spent their off day helping downstate tornado victims.
Players who participated were James Anderson, David Bass, Landon Cohen, Blake Costanzo, Jerry Franklin, Robbie Gould, Demontre Hurst, Patrick Mannelly, Sherrick McManis, Cheta Ozougwu, Adam Podlesh, Dante Rosario, Christian Tupou and Cornelius Washington.
"It was definitely uplifting," Gould said. "There's no doubt about the energy the guys brought down from Halas Hall. It lifted the spirits of everyone in the community. It was pretty awesome to see the kids in the high school and be a part of such a special day."
The Bears players conducted a question-and-answer session with members of the Washington High School football team, who played in a state semifinal game six days after the tornado hit.
"It was an awesome day," Costanzo said. "It just shows you the power of people. When people get together and help each other out, it just shows you can get through anything.
"The mayor came and talked to the kids at the high school and told them how much that playing that football game really had an impact on all the people in the town and gave everyone time to sit back and gather their thoughts and think about what they were grateful for."
Costanzo was stunned to see the damage that was caused by the tornado.
"It was total destruction," he said. "I've never seen anything like it. The only way I could describe it is it looked like a war zone in a movie.
"It's such a great community, with everybody helping everybody. People may have lost their houses and material things, but they're thankful to have their lives. People we talked to said, 'We lost everything, but as long as we have our friends and family, things are going to be OK.'"
Gould wasn't surprised that such a large Bears contingent made the trip to Washington.
"It says a lot about the leadership in the organization and it says a lot about the individuals we have in our locker room," he said. "The organization prides itself on having great guys who want to be involved in the community and want to give back and represent the Bears really well."
Two days after tornadoes ripped through Illinois, Gould spearheaded a trip with six of his current and former Bears teammates to Coal City, Ill., one of the hardest hit areas.
The group traveled to the United Methodist Church in Coal City, where they helped serve meals and distribute supplies from an American Red Cross Emergency Response Vehicle.
Bears Care donated $210,194 to the Red Cross for their Illinois tornado relief fund. Bears fans helped generate $55,097 via donations and an online auction mostly of Bears' game-used and game-worn items. The Bears matched that total and provided an additional $100,000.
Through his Goulden Touch foundation, Gould is auctioning off a package that includes a one-hour private kicking lesson as well as the shoes that he wore to boot a 38-yard field goal in overtime to beat the Baltimore Ravens Nov. 17 at Soldier Field.
Fans can bid on what's billed as the "Ultimate Robbie Gould Experience" through Dec. 12. Funds raised will benefit victims of the tornadoes. Click here for more information or to bid.

Volunteers needed: Fans can send donations to the City of Washington Tornado Relief Fund by contacting any Morton Community Bank Branch. Volunteers are also still needed. Volunteers must be at least 18 years old and can call (309) 698-5002 to register.