BOURBONNAIS, Ill. – The way he performed in Wednesday's training camp practice, Jay Cutler didn't look like a quarterback who's learning another new offense.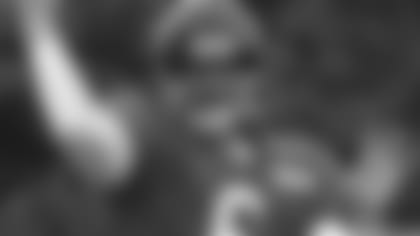 Bears quarterback Jay Cutler hurls a pass at training camp on Wednesday.
The eight-year veteran heaved a long touchdown pass down the left sideline to Earl Bennett—just out of the reach of a diving Chris Conte—and dominated during a red-zone drill, throwing touchdown passes to Alshon Jeffery, Brandon Marshall and Martellus Bennett.
"Jay has really done a nice job of digesting the system and he's done a nice job of leading the group to help them learn the system," said first-year offensive coordinator Aaron Kromer.
"Jay's doing a good job with managing the offense and helping the receivers be on the same page with him, and that's what's important to a quarterback and to an offense. As long as they're on the same page, they'll throw completions."
In learning his fourth different offense in five seasons with the Bears, Cutler said the most difficult challenge has been in "learning the verbiage and being able to spit it out."
First-year Bears coach Marc Trestman was impressed with how Cutler and fellow quarterbacks Josh McCown and Matt Blanchard handled that responsibility in Wednesday's practice.
"I feel [Cutler] is doing an excellent job," Trestman said. "We had some long calls today in the huddle. I gave it to him once and he spit it right back out. He's on top of it. Him, Josh and Matt are dealing with a lot of new words and verbiage. It's very difficult to hear it, repeat it in the huddle and then go out and execute it. But I think we're seeing a lot of good things."
Throughout the offseason and into training camp, Cutler has enjoyed working with Trestman, Kromer and quarterbacks coach Matt Cavanaugh, who played the position for 13 NFL seasons.
"They're very smart offensive guys," Cutler said. "They're quarterback-friendly and they want to make it as easy as possible on myself and the other QBs. So it's fun to work with those guys. They understand what we're going through and they want to put us in a position to be successful."
In Trestman's first season as coach of the CFL's Montreal Alouettes in 2008, he reduced the team's sacks from 68 the previous season to 22 with virtually the same offensive linemen.
In Trestman's system, the quarterback gets the ball out of his hands quickly, which is something that Cutler figures to endorse after being sacked 148 times in 56 games with the Bears. With the Broncos in 2008, he was sacked only 11 times while throwing a career-high 616 passes.
"That's how the offense is built," Cutler said. "It's similar to what we did in Denver. Get back and get it to those guys. I've got a lot of talent on my outside, so the faster we can get it to them and let them work, the better."
Less than a week into training camp, Trestman likes how Cutler is executing within the structure of the offense.
"He's practicing very efficiently," Trestman said. "He's throwing the ball away; there's nothing wrong with that with the defense we have. He's been checking it down a lot during the practices—I think all of us have seen that—finishing his progressions and he's just moving forward."