Bears position coaches spoke to the media this week for the first time since training camp began and here are eight nuggets we gleaned from those interviews:
1) Running backs coach Stan Drayton thinks that Kyle Long's football intelligence is off the charts.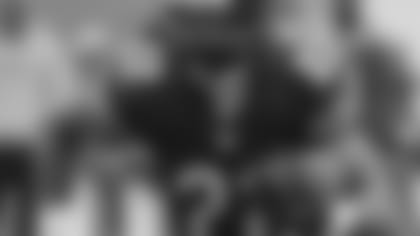 Matt Forte ranks second on the Bears' all-time rushing list behind Hall of Famer Walter Payton.
"Every time everybody asks me about him, the thing I go back to is how smart and how sharp he is as a football player," Drayton said. "To be able to make the full-speed adjustments in the run game and the pass game and in protection is very unheard of at the running back position. The mindset that he has and the way he prepares every single day is special."
2) Receivers coach Mike Groh has been impressed with Eddie Royal, an eight-year NFL veteran who started his career in 2008 with the Broncos, teaming with quarterback Jay Cutler.
"Eddie's a heady guy, a veteran player, and he's done a great job coming in here, getting to know the guys," Groh said. "He's got experience with Jay, which helps. Their rapport goes back a long way, so there's [familiarity] there between those two guys. He's just done a great job, being a quiet presence. He just comes to work every day. Very conscientious. Takes great notes. Wants to get it right. It's important to him. So from that standpoint, he's really led by example."
3) Offensive line coach Dave Magazu has seen left guard Matt Slauson become a team leader.
"He communicates a lot in meetings," Magazu said. "He's working his tail off. He's doing everything we're asking of him. He's gone above and beyond. He's working hard with the young guys. I'm excited about the direction he's going. He's taken on a big leadership role."
4) Defensive line coach Jay Rodgers likes veteran Jeremiah Ratliff's versatility.
"Jay's played a long time in this league, and wherever you put him on the field, he's going to excel," Rodgers said. "Whether you have him at end or nose, I don't think it matters to him. He's just a football player. He understands how to stuff and shed blocks, get on edges with a pass rush, and find his way to the quarterback."
5) Linebackers coach Glenn Pires has been impressed with the progress Shea McClellin has made switching from outside to inside linebacker this year.
"He built a good foundation in the spring, during the OTAs and the minicamp and I think he's now getting more comfortable," Pires said. "He's certainly far away from where we want him to be, because now it's the physical part. But I think he's going in the right direction. I'm really anxious to see these preseason games. But he has a good foundation from the spring."
6) Pires is also monitoring the progress of second-year inside linebacker Christian Jones.
"I think it's similar to Shea in that he's still feeling his way around a little bit in a new position or in a new scheme somewhat in terms of not playing as physical and not playing downhill and he'll be the first guy to tell you that," Pires said. "But we're still going through the thought process and now get to kind of cut it loose once we get into these [preseason] games. I'm excited about his body type and his athletic ability."
7) Defensive backs coach Ed Donatell is happy that the Bears signed veteran safety Antrel Rolle.
"He's just a great competitor and very experienced and no situation is too big for him and you'll see that when we start playing," Donatell said.
8) Donatell, who worked with defensive coordinator Vic Fangio the past four seasons with the San Francisco 49ers, thinks that Fangio excels at making in-game adjustments.
"He's just a very smart guy that knows how to operate on game day," Donatell said. "He has a plan and he can adjust. He has a great ability to adjust on the run during ballgames."