BOURBONNAIS, Ill. — With an enthusiastic crowd of about 9,000 looking on, the Bears practiced in pads for the first time on an unseasonably cool Sunday morning at training camp.
"Guys really appreciate when people come out and watch us practice," coach Marc Trestman said in his opening remarks to the media. "It gets them going and gets them excited."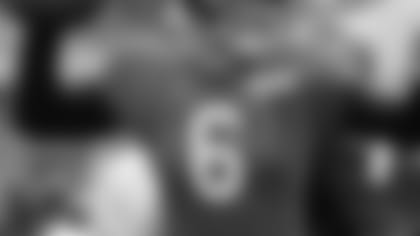 Quarterback Jay Cutler throws a pass during Sunday's practice in Bourbonnais.
With players getting accustomed to wearing pads for the first time since last season, the pace of Sunday's practice wasn't as up-tempo as previous non-contact workouts Friday and Saturday.
In addition to shoulder pads, Bears players also began complying with a new NFL rule that requires them to wear knee and hip pads this season, something many haven't done in the past.
In the trenches Sunday, the defensive line appeared to outplay their offensive counterparts.
"I thought the defense had the jump start on us, and there were defensive players who had edges," Trestman said. "We have to clean up some of the things inside, and we'll do that. That's pretty normal for the first time; usually the defense has the jump and it usually evens out in the end."
After throwing three interceptions in the first two practices, Jay Cutler was not picked off Sunday. The only interception of the day came when cornerback Isaiah Frey ripped a Matt Blanchard pass away from rookie Marquess Wilson over the middle.
"I was really pleased with the quarterbacks; they took care of the football," Trestman said. "Jay was on in terms of finishing his progressions and getting to second and third receivers. We spread the ball around a lot today again. That's happened for three straight days, and that's a good sign."
Cutler was particularly sharp in a red-zone drill late in practice, hitting receiver Brandon Marshall and tight ends Martellus Bennett and Fendi Onobun with 15-yard touchdown strikes. While Marshall stands 6-4, Bennett and Onubun are both 6-6, and second-year receiver Alshon Jeffery is 6-3.
"We've got some tall guys with some girth on them," Trestman said. "It's certainly easier to see them with what's going on up front. It's always a good thing to have guys who can run like that and have strong hands and make plays. We're lucky to have them and excited about working with them each and every day."
For the first time in training camp, the Bears conducted one-on-one drills pitting receivers against defensive backs. Joe Anderson ran a nifty route to beat Kelvin Hayden, while Wilson outleaped cornerback Demontre Hurst to snag an underthrown jump ball.
"It was a good catch," Trestman said. "This is a game of one-on-one and contested throwing battles. We talk about it every day and we look at it hard: who won the contested throwing battle? Usually that's a point of emphasis on game days. It's turnovers, it's explosive plays, and usually a contested throw on either side of the ball is an explosive play. It's going to be a turnover or a catch that's going to get you big yards. That was evident that [Wilson] has the ability to make those plays. It was good coverage; two guys going up for the ball and one guy coming up with it."
Also for the first time in camp, Bears offensive and defensive linemen battled in a one-on-one pass rush drill. Players who stood out included rookie guard Kyle Long and defensive tackle Henry Melton.
"Iron sharpens iron and in my opinion this is one of the best defensive lines in the league," said guard Matt Slauson. "So it's great for us as an O-line to compete against them every day."
Defensively, Charles Tillman victimized Bennett with his patented "Peanut Punch," but the tight end recovered the loose ball. Craig Steltz later forced and recovered an Anderson fumble, returning it down the left sideline.