The Bears have received two prestigious awards in recent days for their work in the community.
On Thursday, the organization was presented a "Go The Distance" award at Chicago Run's "Little Steps, Big Stars" event at the Hard Rock Hotel in Chicago.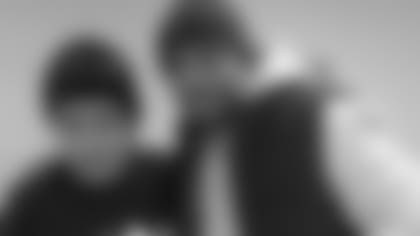 Bears running back Armando Allen poses with one of the participants in the "B.A.M." program.
The Bears were honored for their support of Chicago Run's mission to provide health and fitness programs to Chicago Public School students and, in particular, the team's support of the "Running Mates" middle school program through appearances, product donations and a monetary grant.
Kicker Robbie Gould accepted the award on behalf of the Bears at the event.
Chicago Run is a non-profit organization whose mission is to promote the health and wellness of Chicago children through innovative, engaging and sustainable youth running programs.
Last Saturday the Bears were given the "2013 Organization of the Year" award at the 2013 Youth Guidance Gala at the Fairmont Chicago Millennium Park Hotel.
Youth Guidance creates and implements school-based programs that enable at-risk children to overcome obstacles, focus on their education and to succeed in school and in life.
The Bears were honored for providing character development opportunities to Chicago Public School students the past 15 years through the Bears School Outreach program, in partnership with Youth Guidance. In addition, the team plays a leading role in the evolution and success of Youth Guidance's B.A.M. (Becoming a Man) and W.O.W. (Working on Womanhood) programs.
Patrick McCaskey, the Bears' senior director of special projects, accepted the award.