PITTSBURGH — The Bears defense did what it does best Sunday night at Heinz Field, producing five takeaways and scoring two touchdowns in a 40-23 win over the Steelers.
"We've been watching it since the OTAs and the same things happen in practice week-in and week out," coach Marc Trestman said after his team improved to 3-0 for the first time since 2010.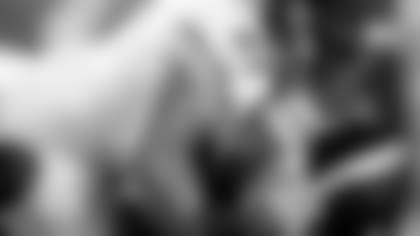 Major Wright returned an interception for a touchdown and forced a fumble in Sunday night's win in Pittsburgh.
"We've improved as an offense because we have to face our defense every day. We're able to understand the importance of taking care of the football because they're always trying to knock it out. So it's gotten us better. It's unique certainly that we do it on a consistent basis. They've just picked up where they left off over the number of years that they've been doing it."
After leading the NFL with 44 takeaways last season, the Bears have generated 11 in three games this year. Last year the defense scored nine touchdowns, tied for the second most in NFL history. The Bears already have three defensive TDs this year, including two Sunday night.
Major Wright gave the Bears a 24-3 lead midway through the second quarter when he intercepted a Ben Roethlisberger pass and returned it 38 yards for a score. Late in the game Lance Briggs sacked Roethlisberger, forcing a fumble that Julius Peppers brought back 42 yards for a TD. The Bears scored 23 of their 40 points Sunday night off turnovers.
"That's what we emphasize; taking the ball away," Peppers said. "So we had a good night tonight."
Melton hurt: Defensive tackle Henry Melton, who had a hand in two of the takeaways, was carted off the field with a knee injury early in the fourth quarter.
Asked about Melton's status after the game, Trestman said: "He's under observation right now. I don't know anything at this time."
Before getting hurt, Melton pressured Roethlisberger into throwing the pass that Wright picked off and later recovered a Felix Jones fumble that Wright forced early in the second half.
Big Ben: Winning the turnover battle 5-0 helped the Bears make up for getting outgained 459-258. Roethlisberger completed 26 of 41 passes for 406 yards with two touchdowns, two interceptions and a 92.1 passer rating. Antonio Brown had nine receptions for 196 yards and 2 TDs.
The Bears blitzed Roethlisberger frequently. They sacked him three times, but defenders struggled to get the 6-5, 241-pounder to the ground on numerous occasions.
"We tried to get after him and tried to get a rush and Ben was exactly the Ben we thought he would be," Trestman said. "We were going to bounce off him at times. He was going to extend plays and make plays and when you throw it down the field and he did they were able to make some real good explosive plays along the way."
News and notes: Matt Forte's 55-yard run was the fourth longest of his career and his longest since a 68-yard TD run Oct. 10, 2010 at Carolina. He finished Sunday night's game with 87 yards on 16 carries. ... The Bears' 40 points are the most by an opponent in Pittsburgh since 2000. ... The Steelers are 0-3 for the first time since 2000. ... Pittsburgh did an effective job of keeping the ball away from Devin Hester, who had only two touches with kick returns of 21 and 5 yards.