The Bears on Wednesday promoted Pat Meyer to offensive line coach and hired martial arts expert Joe Kim as a strength/skill development specialist.

Meyer spent the 2013 season as Bears assistant offensive line coach. He worked with a revamped unit that helped the Bears rank second in the NFL with 445 points and set team records with 6,109 total yards, 4,450 passing yards, 32 passing touchdowns, a 96.9 passer rating and 344 first downs.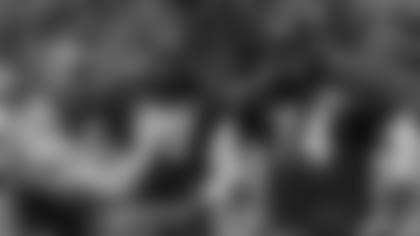 Pat Meyer talks to left tackle Jermon Bushrod last year during the Bears' full squad minicamp.
Aaron Kromer, who served as offensive coordinator and line coach in 2013, will remain the coordinator and continue to be involved in all aspects of the offense, including the line.
Meyer joined the Bears after working as offensive coordinator/offensive line coach under Trestman with the Canadian Football League's Montreal Alouettes in 2012.
"Pat came in with an understanding of the offense and quickly assimilated himself with the players," Trestman said. "He worked with Aaron, collectively, to not only teach the offensive linemen but to bring them together collectively and cohesively as a group.
"The move will allow Aaron to still be closely connected to the instruction and development of the offensive line while expanding his coordinator duties and free up time to help in the growth of all of our offensive players."
The offensive line showed marked improvement in both pass protection and run blocking in 2013. The Bears allowed just 30 sacks, tied for the fourth fewest in the NFL, while Matt Forte rushed for a career-high 1,339 yards, the most by any player in Bears history other than Walter Payton.
"Pat has shown in his time here every capability of coaching the offensive line," Kromer said. "He's done a great job with the blitz pick-up game that we excelled at this year. He's done a great job so far and he deserves this.
"We have worked well together from Day 1. We have different backgrounds, but we've been able to work together and learn together and be on the same page. Players trust us both, and when you have an atmosphere like that, the players can only get better because of it."
Meyer said that he's very grateful to Trestman, Kromer and general manager Phil Emery for the opportunity and is excited "to grow in this business and to continue to learn and hopefully to continue to contribute to the offense."
Kim has 21 years of experience as a consultant and assistant strength coach. He has worked for eight other NFL teams, most recently as a pass rush consultant with the Chiefs from 2010-12, where he helped develop Pro Bowl linebackers Tamba Hali and Justin Houston. Emery was Kansas City's director of college scouting from 2009-11.
Kim has also worked with the Browns, Cowboys, Packers, Broncos, Bills, Dolphins and Giants.
Kim is a 7th Dan Black Belt recognized by the World Taekwondo Federation, Kukkiwon and USA Taekwondo. He has produced over 250 black belts as well as several national and international Champions. He was a multi-time member of the U.S. National Taekwondo team, earning bronze medals at the 1990 Pan Am Games and World Cup. Kim is a two-time U.S. Olympic Festival gold medalist and national champion.
"Joe comes in highly recommended through Phil and some players and coaches I've talked to from around the league," Trestman said. "As in every phase of our team, we are trying to help our players grow and develop in different areas. Adding Joe is part of the ongoing process to help our players improve their collective skill sets."