The following is the first of nine position reviews of the 2013 season.*
The Bears hired Marc Trestman as their head coach a year ago in large part because of his successful track record working with quarterbacks such as Steve Young and Rich Gannon.
Trestman's impact on the all-important position in his first year in Chicago was evident as starter Jay Cutler and backup Josh McCown combined to set franchise records with 32 touchdown passes, 4,450 yards, a 64.4 completion percentage and a 96.9 passer rating.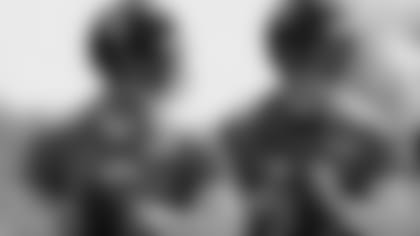 Jay Cutler and Josh McCown both excelled under the guidance of first-year coach Marc Trestman.
The two quarterbacks also benefitted from working with offensive coordinator Aaron Kromer and position coach Matt Cavanaugh as well as a revamped offensive line and three Pro Bowlers in running back Matt Forte and receivers Brandon Marshall and Alshon Jeffery.
Working with his fourth coordinator in five seasons with the Bears, Cutler posted a career-high 89.2 passer rating in 2013, completing 63.1 percent of his passes for 2,621 yards with 19 touchdowns and 12 interceptions in 11 games.
Cutler led the Bears to comeback wins in their first two games of the season, throwing TD passes of 19 yards to Marshall with 7:58 left to beat the Bengals 24-21 and 16 yards to Martellus Bennett with only :10 remaining to defeat the Vikings 31-30.
The Bears were most impressed with the mental toughness Cutler demonstrated late in the season when he returned to the starting lineup after missing four games with a high ankle sprain.
One week after McCown had thrown four touchdown passes and run for a fifth TD in a rout of the Cowboys, Cutler bounced back from two first-half interceptions to throw three TD passes in a crucial win over the Browns that put the Bears in control of their own playoff destiny.
The way Cutler responded to the adversity helped convince general manager Phil Emery to make a long-term commitment to the quarterback, who signed a seven-year extension on Jan. 2.
"He took accountability for [the picks] and he kept fighting for his teammates and found a way to win," Emery said. "From a physical standpoint, a toughness standpoint, emotional calmness, his ability to win a tight game and to bounce back from adversity, to me that game summed it up.
"The things that I felt certain about Jay as far as signing him into the future, No. 1 he's a demonstrated winner with the Chicago Bears. Two, this fall he showed us right from the beginning that he can be a key player in terms of a player being the reason you win."
In just five seasons with the Bears, Cutler has become the franchise's all-time leader in most passing categories with 1,258 completions, 2,090 attempts, 14,913 yards and an 83.1 rating. His record as a starter since arriving in 2009 via a blockbuster trade with the Broncos is 39-28.
Signed through 2020, Cutler is eager to pick up next season where he left off in 2013.
"I'm excited," he said after signing his new deal. "I don't feel a lot of pressure right now. I just feel at ease. I know that I'm locked in here. The future is set. Now it's just about going out and being the best quarterback I can and helping lead this team in the direction we want to go."
McCown also excelled in 2013, operating the offense with efficiency and keeping the Bears in the playoff race while Cutler was out. Appearing in eight games with five starts, McCown completed 66.8 of his passes for 1,829 yards with 13 TDs, one interception and a 109.0 passer rating.
McCown led the Bears to a rare victory in Green Bay, was named NFC offensive player of the week after accounting for five TDs against the Cowboys, and ranked third in the NFL in passer rating behind only the Eagles' Nick Foles and the Broncos' Peyton Manning.
McCown is among 25 Bears players who are slated to become free agents in March.
"I know we'd love to have him back," Cutler said. "We'd like to have him back in the building just because of the amount of work he does behind the scenes with the younger players and myself. Just the experience he brings to the quarterback room, it's very valuable. We'll see how that works out. The guys in the locker room are hoping that we see '12' back next year."